Azzurra captures the lead of the 52 Super Series in Cape Town
The boat flying the Yacht Club Costa Smeralda's burgee has taken the lead of the provisional overall results after two days of racing. The first event in the 2020 season will end on March 6th.
With two excellent second place finishes in the two races held today in Table Bay, Azzurra is now in the lead of the provisional results in the 52 Super Series. In westerly wind that built from 14 knots up to 20 in the second race, the Race Committee wisely chose to position the race course in a northerly area that was less affected by the landmass than yesterday's so that the racing fleet had more options for tactical decisions. Table Mountain's famous "shadow" still made for unpredictable conditions that were difficult to read, but generally speaking the left side of the course was better.
In the first race Azzurra started on the pin, gaining ground on the rest of the fleet on a long starboard tack and getting to the mark just behind Phoenix 11, who up until then was looking unbeatable in her home waters. The teams kept those positions to the end of the race with Provezza coming in third. Unfortunately, during the race there was a collision between Alegre and Sled and both teams had to withdraw while Alegre also got two penalty points.
The second race got underway in shifty westerly winds that clocked in at 19 knots at the masthead but were at about 16 on the water's surface. The Race Committee repositioned the race course further north and Azzurra changed tactic by starting towards the centre right on the Committee Boat side to have more sailing options open. She got to the first mark side by side with Bronenosec and Provezza, but chose to round it third to avoid risks. Along the next run Azzurra rolled Provezza by manouvering perfectly on the final gybe before the gate and stayed in second place until the end. Provezza slipped back to eighth place after fighting hard with Phoenix 11 who finished seventh. This position cost the South African team their provisional lead at this event that was captured by Azzurra. Unfortunately, Sled had suffered too much damage to be able to take part in the race and was given a redress score of 5,5 points.
Guillermo Parada, skipper: "We're happy that we're getting consistent results on such a complicated race course and with so many wind shifts and changes in pressure. It's thanks to the whole team and to the boat that we're feeling fast and reactive which is just what we need to get ourselves out of tricky situations. Lots of boats had collisions today, they got penalties and they made errors: for us, just staying out of trouble was already an advantage. But today is just one day out of many, we have to keep working hard and sailing well."
Michele Paoletti, tactician: "It seems like things are going well: we sailed well, we're fast and we're getting good starts. We did everything we could to stay out of trouble and in the top positions. I'd like it if we could keep this up because these races are like marathons: you have to be consistent and not take too many risks and we have to keep that in mind. The boats are very quick and if you can stay in clean air away from your adversaries it makes all the difference. Guille got two great starts and from there we got good results again today."
Tomorrow racing starts at the same time, 12:30 SAST South African Standard Time (11:30 CET) with wind conditions forecast to be similar to today's. Racing can be followed on the tracker Virtual Eye, on the website azzurra.it, on the 52superseries app or the website 52superseries.com. Live updates from the race course will also be posted on Azzurra's Facebook page.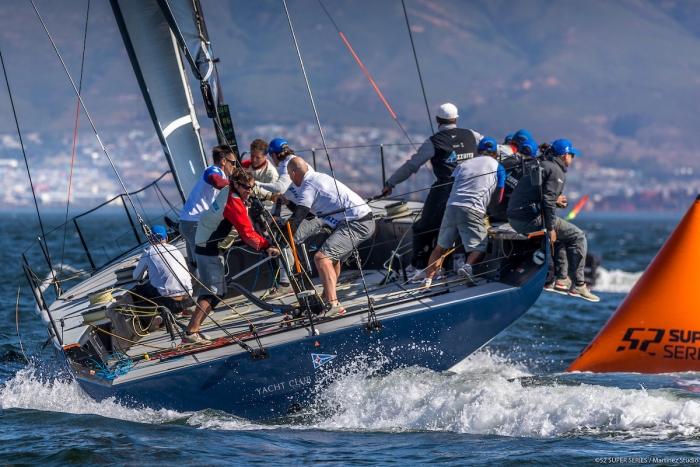 Odzala Discovery Camps 52 SUPER SERIES V&A Waterfront – Cape Town
Provisional Results after 4 races
1. Azzurra (ARG/ITA) (Alberto/Pablo Roemmers) (4,2,2,2) 10 p.
2. Phoenix 11 (RSA) (Hasso Plattner) (1,3,1,7) 12 p.
3. Sled (USA) (Takashi Okura) (3,4,RDG6,RDG5.5) 18.5 p.
4. Bronenosec (RUS) (Vladimir Liubomirov) (2,10,7,1) 20 p.
5. Quantum Racing (USA) (Doug DeVos) (5,8,4,5) 22 p.
6. Provezza (TUR) (Ergin Imre) (6,6,3,8) 23 p.
7. Alegre (USA/GBR) (Andrés Soriano) (7,1,DNF11+2,4) 25 p.
8. Platoon (GER) (Harm Müller-Spreer) (9,7,8,3) 27 p.
9. Phoenix 12 (RSA) (Tina Plattner) (8,5,5,9) 27 p.
10. Paprec (FRA) (Jean-Luc Petithuguenin) (10,9,6,6) 31 p.