The Newport Ocean Sailing Association to Celebrate 75 years in 2022
The Newport Ocean Sailing Association to Celebrate 75 years in 2022
The Newport Ocean Sailing Association, host of the iconic Newport to Ensenada International Yacht Race, will celebrate its 75th year in 2022.
NOSA was founded on August 15, 1947, at an initial gathering on Lido Island. An October organizational meeting followed at which Cliff Chapman was elected President. At December's meeting, Ensenada had been chosen as the destination of its first long-distance ocean race, with a tentative spring date as not to conflict with the summer's racing calendar.
"NOSA was founded in 1947 as a post-World War II dream of recognized local sailors with a focus on developing a handicaps system for races to Mexico and opening up boating to Mexico," Chapman wrote California's Governor Earl Warren in an effort to involve the politician in the "Governor's Cup Race."
The new organization and its plan for adventure were greeted enthusiastically. In a November 1947 note to its 60 new members, Chapman encouraged sailors to help build the organization. "Each of you should know at least one person that is interested in our ideas, so I am enclosing a membership application form with this letter," he wrote.
Three-quarters of a century later, the organization, steadfast in its mission, has achieved immeasurable success. Powered by veteran sailors and knowledgeable race organizers its board has relentlessly sought to innovate and adapt with an everchanging sport; its signature racing event still enticing enthusiastic sailors to compete year after year.
In the year coming out of a global pandemic, the 2021 NOSA board felt strongly about offering a sense of normal and committed to hosting an N2E regatta with options for everyone's level of comfort.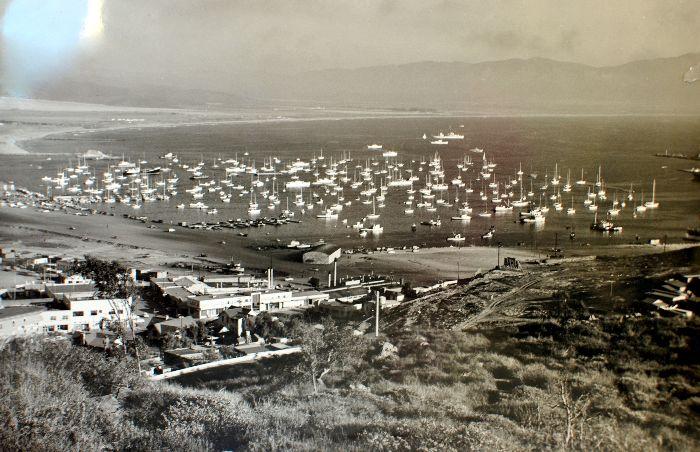 Like the organization's initial objectives - to revive the pre-World War II enthusiasm for cruising races emphasizing good fellowship and fun - competitors hailed the 2021 N2E as an opportunity to reconnect with their love of sailing and the comradery of yacht racing.
NOSA still relies on participants to share stories of their racing adventures and encourage new sailing friends to join the fun.
In the archives is a May 1949 letter to President Truman that Chapman wrote in thanks of Admiral Baker's Ensenada appearance to present the new President of USA Trophy. He proclaimed that NOSAs first race, with 117 entries, was the largest ocean sailing event in the history of deep-water sailing. The second saw 134 entries.
"Again, establishing a record and showing the yachting world that Southern California and the United States were crossing an international boundary line in a spirit of friendship and goodwill," Chapman said. "This yachting event has already become more important than just another yacht race. I, as the head of this organization, am fully aware of the significance of democracy at work that we have demonstrated."
However, what has kept NOSA an authority in California coastal yacht racing; for years retaining the title as hosts of the world's largest international yacht race, comes down to the army of steadfast volunteers.
By the 50th anniversary of NOSA, Chapman was revered as its Godfather and as perhaps its most committed volunteer. Documents show that Chapman sought support for the race on every level; making phone calls, sending telegrams, and writing letters to the President, Governors in both countries, Admirals, port authorities, and more. Historian Doug Wall wrote that Chapman handled publicity, wrote press releases and membership communication, and sought sponsors.
Although NOSA President for the first two years, Chapman continued to work with the association for another 15 as the general race chairman. He died in 1974.
In its 75-year history, 58 men and two women have led three flag officers and nine directors that make up the board. Four committee heads support annual goals and direct volunteers rounding out the crew.
"The Ensenada Race has not only become a living institution but an opportunity for innovation in handicapping, safety at sea rules, and other race management innovations," wrote Wall. He proclaimed that 250 volunteers help with race logistics, a fleet of 25 powerboats was needed for escort duties, boat check-ins, mark setting, and at the finish line. For just one race.
The number of volunteers who have supported these leaders and made its long-running regatta famous is incalculable.
"The most rewarding thing was helping to make the whole race experience great for the racer, NOSA's customer," said Staff Commodore Jerry Shandera (2001) about his time with the organization.
"The NOSA leadership and volunteers have long worked tirelessly to ensure that we bring both sides of the border together to continue the long history of a safe and fun race for every level of racer," said Commodore Mary Bacon.
As foreseen by Wall at the 50th anniversary, "NOSA lives on with a tradition conducted by sailing enthusiasts from all local clubs and with a unanimous spirit to have the world's best, biggest and most fun international sailboat race."
Celebratory events have already begun.
In an unprecedented visit, the Mayor of Ensenada, Mexico, Armando Ayala, will be in Newport Beach today, exclusively to meet Newport Beach's Mayor, Brad Avery. The rare visit is in honor of the upcoming anniversary year. At the Bahia Corinthian Yacht Club meeting, Avery will present a proclamation to Ayala.
For NOSA's anniversary year, the history-filled Newport to Ensenada International Yacht Race will take place on April 22, 2022. It will be a "can't miss" event for sailors.
Notable NOSA Volunteers
Charles Ullman, founding member and first chairman of the handicap committee that devised two racing categories; the Long-Distance Racing Class and the Arbitrary Class.
Carolyn Starr – the longest-serving executive secretary. The organization honored her with a trophy given to the fastest boat with an all-female crew. According to NOSA's current secretary Judy Foster, "Helping the racers," is the most rewarding part of her role. She takes care of the entries and in the weeks before the race talks to many skippers to make sure they have everything they need to sail.
Earlier this year, Staff Commodore Paul DeCapua (2005) was awarded the Joseph Baiunco Memorial Award for dedicated service. DeCapua helped bring NOSA into the digital age; managing its website, among other roles, for more than 20 years.
Joseph Baiunco, the organization's chief financial officer was the first to institute a budget for the nonprofit and helped keep it financially afloat. His wife, Toni Baiunco led the hospitality and events committee for some 25 years now and is a current board member.
Ralph Rodheim, an avid racer and a master at landing top race sponsors served on the Newport Beach Harbor Commission for 11 years before retiring in 2013.