The new Neo 570c contemporary cruiser-racer is a head turner
The new Neo 570c contemporary cruiser-racer is a head turner
Let top Italian sailmaker and racer Paolo Semeraro loose with a boldly innovative designer like Shaun Carkeek, give them a wide-open brief to just 'do it better' when it comes to contemporary cruiser-racer design and no surprise that the end result really is kinda special...
The quest for both performance and comfort on the same boat has been an ongoing challenge for builders and designers everywhere since there are inevitable compromises in finding appropriate solutions to achieve both. Yet the new Neo 570 c may be as close as possible to have found an optimally perfect solution, as confirmed by initial sailing on hull number one, Carbonita.
Two years ago the vision from project manager and builder Paolo Semeraro sounded simple enough: use the best possible elements of modern design and technology to build a boat that can be as fast as a TP52 in most wind conditions yet still be capable of being adapted for comfortable family cruising, and with both modes having reduced crew. Along with designer, Shaun Carkeek, it was determined that achieving this would be possible only in a longer larger boat, so the design settled on 57ft being a perfect length to accommodate all the elements of the design brief.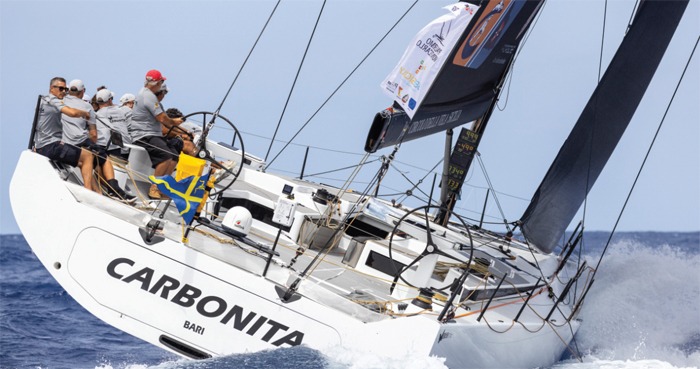 Within this design length there are numerous features and innovations needed to maintain the performance heritage of the Neo brand. Semeraro has an uncompromising insistence on high performance, so the Carkeek team created light and stiff hull and deck forms whose shapes have been refined by extensive Computational Fluid Dynamic (CFD) and Finite Element Analysis (FEA) work refined to not only allow the transition to surfing and planing at low true wind speeds, but also enough power and stability to achieve impressive upwind performance as well. This is only possible with high-tech all-carbon pre-preg laminates used in the hull, deck and all structures throughout the boat - the weight and centre of gravity is thus minimised so that when the lifting keel is at full extension at 4.2 metres draft, this boat will easily match and even exceed TP performance upwind.
In sea trials and in the boat's one race sailed so far – last summer's Palermo to Monaco Race – Semeraro reports that the boat responded well to the generous sailplan supported by a rig package that includes an ultra-high modulus carbon fibre mast complete with a carbon boom, carbon rigging and titanium fittings.
He also praised the exceptional balance the boat had, due in part to positioning the bulb and rig aft which helped bring the centre of effort back, increase the boat's dynamic stability and help compensate for less crew on the rail. While twin rudders are an option on the Neo 570 c, hull number one Carbonita has a single deep rudder, creating a real allround boat capable of windward leeward races as well as light wind Med offshore conditions and extensive work on refining the dual steering system made the boat "a joy to steer," he says.
Even the large chamfer in the hull's bow shape, a signature feature of Carkeek's competitive monohull designs, not only reduces windage, increases panel stiffness and reduces weight, he found helped to deflect bow spray, keeping the deck dry.
Innumerable other details contributed to the boat performing as planned. The rig has locks on the halyards and on the reef lines to reduce compression stress and the need for clutches that also clutter the clean look of the deck. The relatively shorth length and shallow depth of the low VCG cockpit was found ergonomically favourable for a small crew, better for interior volume and less prone to accumulating water on deck.
The electric winch package was worked on with Harken to be effective throughout all ranges of speed and power needed, an essential function for a boat without pedestals and a reduced number of crew. The multiple routing options of running rigging to these winches was also refined to be efficient and effective, validating a simple and minimalist approach to deck hardware that focuses on shorthanded sailing, usability, reliability and waterproofing.
Carbonita has built-in aft water ballast tanks to replicate crew weight when sailed short-handed, and an efficient control system to move the water quickly tack to tack. Semeraro reported its use in the Straits of Messina in the Palermo race enabled them to tack when needed on intervals as fast as five minutes.
The time and effort spent on designing, fabricating and installing interior design elements was also proven effective. The relatively open interior layout with centre aisles and an open composite space frame rather than central main bulkhead makes sail stowage easy, and well-crafted and positioned storage lockers kept the below deck clutter to a minimum whilst facilitating easy movement fore and aft without having to climb through mountains of sail bags. The centreline nav station has does not give any weight bias while working on either tack or gybe and has two screens and an articulating seat.
Rather than having racks of framed pipe berths in a black carbon cave, the Neo 570 c has its interior painted in a light colour, with deck hatches and windows to provide light, fitted with proper fixed berths that are lightweight and strong (they are carbon after all) and designed to drop down to be seatbacks when not in berth use. There are accessible hanging lockers for wet gear rather than having them hang in the two enclosed heads.
Two large double cabins with racing bunks are aft on each side and there is easy access to an additional two - four bunks forward for getting rest when the crew weight is needed forward (and low) for light air. The galley is large and on the centreline, Volvo Ocean Race style. While most raceboats have nothing forward of the mast but an empty cave with maybe a toilet, the Neo 570 c has a large open area, and, with the table dropped, this area becomes area king size bed. Separation doors or a sailcloth curtain are an option to create a private third cabin.
Just as there's been no compromise on performance, nor has there been any on down below comfort and convenience either: Carbonita is fitted out with an HVAC system for air conditioning, a watermaker, refrigerator and freezer, showers in both bathrooms and on the beach platform. There is an anchor control system in the bow when in cruising mode, and the keel can lift 1.4m to reduce the draft when approaching harbours, a huge advantage in extending cruising ranges. Given the reliance on electric and hydraulic power for many onboard systems, it's notable they're placed where their weight and function have the least negative effect. The hydraulic system that controls the keel lift is designed by Cariboni for on-deck functions as well, like the vang, outhall and cunninghams. There is a carbon hydraulic reservoir below deck and custom hydraulic cylinders that are easily accessible and recessed under the deck, designed with exterior channels to keep the water out and simplify the installation and secondary structure.
Electrical power is provided by three large 24V Lithium batteries, which are rechargeable by the engine: double 24 volts/150 Ah Alpha Pro alternators from mastervolt or shore power. There is one 12V dedicated engine battery to ensure power is there when you need it, and even though there is an option for electric or hybrid propulsion systems, either fixed or lifting, Carbonita opted to keep things simple with a conventional sail drive. AC power is permanently available during sailing up to 10.5kw, thanks to the 3 Mastervolt MassCombi chargers.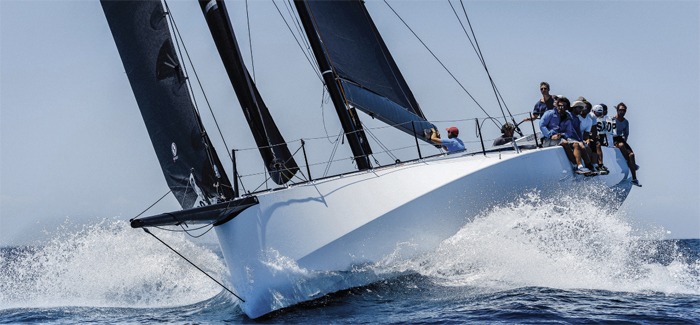 One of the more impressive features on deck to indicate the Neo 570 c's potential as a serious cruising boat is the lightweight garage space built below the cockpit floor and accessible through the transom. This space can handle a fourmetre long RIB or other craft. There is also a dedicated locker for a liferaft when this is needed on long offshore races.
With the huge amount of attention to detail given by Semeraro's build team, Carbonita's measured specifications came very close to expectation. The displacement on their ORCi certificate is 11.9 tons, stability index is 136.5, and 2022 all-purpose handicap is 386.3 sec/ mile. By comparison, one of the newestbuilt and measured TP 52s is 7.2t, has a stability index of 142.5 and an APH of 382.6 sec/mile. Their rated VMG upwind and downwind boat speeds in both eight kts and 14kts are nearly the same as that of Carbonita. And this is with the same crew weight of 1,200kg on both boats.
Using these metrics it would seem that Semeraro and Carkeek have done it: created a boat with the performance of one of the most successful raceboat classes in history that has the creature comforts of a well-appointed cruising boat. Well done.