Wally unveils one-design rating-buster race model, the wallyrocket51
Wally unveils one-design rating-buster race model, the wallyrocket51
Wally's sailing yachts have always been icons of style and innovation, setting benchmarks for performance and turning traditional thinking on its head. Now, knowledge, flair, precision and passion has been channeled into a new design which represents a new direction for the brand. It is born from an aim to create the world's fastest race boat that can thrill as a one-design class but which can thread her way to the top of the podium against the elite in IRC and ORC racing by sailing faster and rating lower than anything around her. This is wallyrocket51.

At 15.5 metres LOA, wallyrocket51 sits right in the pocket of the classic 52-footers. She measures slightly shorter than a TP52, but she is designed to beat them thanks to innovative features, ultralight displacement and an exhaustively refined hull. Moreover, Wally's design team has worked on wallyrocket51's design with Botin Partners – a team whose resumé includes the America's Cup, and whose yacht designs have taken 12 consecutive TP52 season titles, ORC world championships and Rolex Maxi Cup titles, among many others.

"The idea of Wally was to make a very strict one-design class that could provide pure racing, that was high-tech and that could provide a lot of fun, but which could also be very competitive under IRC and ORC rating rules," begins Adolfo Carrau, Partner at Botin Partners Naval Architecture. "That was the starting point. We began with a 52-foot design because of our knowledge in that size and the fact that it's also a size that has proven competitive in all conditions and sea states. But the first secret of the wallyrocket51 design," he teases, "is that it's not a 52-footer, it's a 51-footer."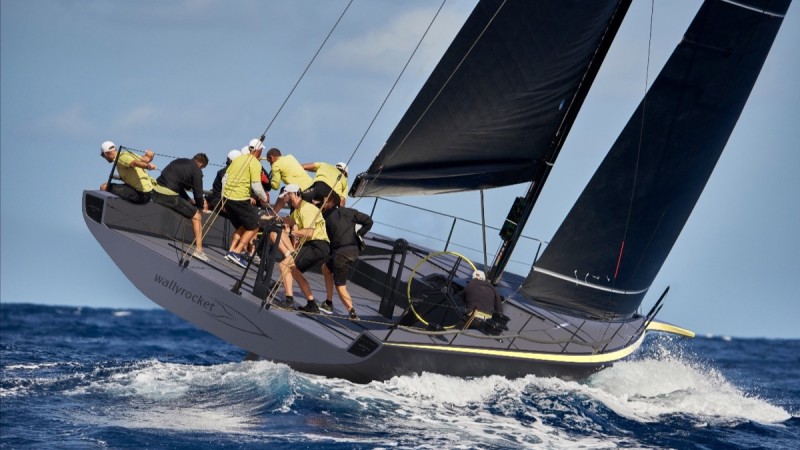 It's a critical factor, because it has allowed the design team to optimise the hull, underwater appendages and sailplan by getting a rating bonus that could be spent on other elements. Those include a displacement of just 6.3 tons in measurement condition – making it the lightest racing boat out there – which makes the wallyrocket51 very reactive, super-fast downwind and quick to plane. But while that would normally mean a disadvantage upwind, wallyrocket51 employs a feature that dominated the 2007 America's Cup – an adjustable trim tab on the trailing edge of the keel. This produces a huge amount of lift upwind on a smaller keel stem profile, reducing resistance and delivering neutral leeway. With the water flow aligned with the boat, there's a big reduction in hull drag which means in spite of having a shorter waterline length, the wallyrocket51 will be able to sail higher and faster than competitors.

Additionally, one of the world's most successful competitive sailors, Vasco Vascotto, alongside Argentinian sportsboat ace Guillermo Parada have advised as project developers. Their combined Olympic and America's Cup experience have been put to excellent use making the wallyrocket51 easier to handle with less crew and more fun to sail. They have also been instrumental in shaping the forthcoming wallyrocket one-design series.

"With the wallyrocket51 we are making a yacht that everyone is looking for and everyone wants. A yacht able to perform in all regatta fields, but at the same time that maintains the design and that is fun and that respects the standards of the most modern yachts and possibly exceeds them," said Vasco Vascotto.

"It has been an incredibly interesting challenge to contribute to the development of a one-design boat that not only introduces a new class for Wally but will challenge the most competitive vessels in other classes around the world." adds Guillermo Parada. "We are extremely satisfied with the end result, which not only needs to be fast and competitive but also technologically advanced, easy to sail and comfortable to navigate, as all the Wally are!"
The wallyrocket51 can be raced by a crew of just 11; a water ballast system in the aft quarters not only helps with righting moment but also delivers more neutral pitch, which further improves hull resistance. The system has a 550-litre capacity, takes 80 seconds to fill, 60 seconds to ditch, and just 10 seconds to transfer from side to side, making it a breeze to fine-tune in any conditions. The combination of keel trim tab and water ballast has been cleverly designed to offer a greater performance gain than the rating sacrifice they entail which, in combination with the length and displacement advantages, will give the wallyrocket51 the edge at all points of the race course.

Deck ergonomics have also been considered to cater to the smaller crew, and twin grinder pedestals provide grunt to everything from mainsail trim to hydraulics thanks to a clever switching system. The amidships grinder can also be replaced by an electric motor to provide power to winches for shorthanded racing.
"This project represents a truly unique approach to the creation of a new boat that was very much needed in today's competitive landscape for this size. The wallyrocket51 is very close to our hearts and has eluded us for years as we sought to develop a design that could win any regatta in the world," says Stefano de Vivo, Wally's Managing Director. "We have cracked it at last, and we anticipate strong demand for the wallyrocket51 once the world sees it perform. This is a boat that will appeal to all those owners who love to race at the highest level but want to do so in a new and entertaining way."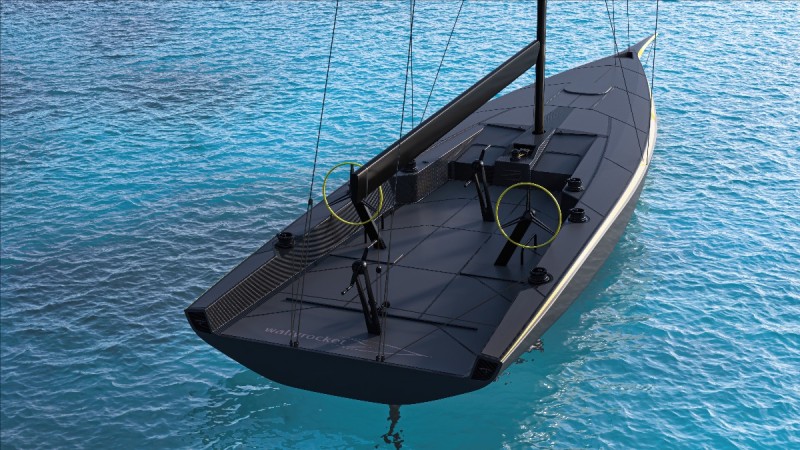 With her design team having such intimate knowledge of the 52-foot arena it's evident the design will stack well in the melee, but while wallyrocket51 has been conceived as the ultimate set-course maestro, that's not all she is capable of. "We looked at everything, from windward-leeward courses in 6 to 25 knots of wind, to the classic offshore 600-milers such as the Rolex Middle Sea, Rolex Giraglia, RORC Caribbean 600 or Fastnet," explains Carrau. "It's a very versatile boat and it goes well upwind, downwind and reaching – and it's also engineered to ISO Cat-A so it can do any offshore race. Indeed, our simulations show that she can beat her competition under IRC or ORC in any of those inshore or offshore scenarios."
Wally created the wallyrocket51 to provide owners with a one-design racing boat that will allow them to enjoy family cruises while also having a strong chance of securing podium positions in regattas. The shipyard has developed this advanced design in a year, and it is expected to achieve significant success among sailors because the new model effectively balances both fun and sporty aspects.
In other aspects, wallyrocket51 draws on proven, cutting-edge build materials and methodologies. The hull is pre-preg carbon with Corecell, while Nomex is used as the core for the deck. The rig is by Southern Spars, made in High Modulus carbon fibre, with Future Fibres AeroSix standing rigging, and the sail areas include 163.9 square metres upwind and 361 square metres downwind. Winches are Harken Air Winch, and the jammers in the pit are Spinlock.
"Fast, fun, smart and revolutionary, as all Wallys" enthuses Luca Bassani, Wally's Founder and Chief Designer. "With her dramatic reverse sheerline, flush deck and long bowsprit, the wallyrocket51 is instantly part of the family. And true to Wally's DNA she will feature some ground-breaking innovations that not only make it the most competitive vessel, but also reduce the annual running costs versus the existing one-design classes today."
The first wallyrocket51 is already under construction and it is scheduled to launch in 2024.