The Superyacht fleet under sail, Giorgio Armani Superyacht Regatta 2022. Photo credit: YCCS/Studio Borlenghi
Magic Carpet Cubed lead on day 1 of Giorgio Armani Superyacht Regatta
The first day of racing was held today in the Giorgio Armani Superyacht Regatta, an event organised by the Yacht Club Costa Smeralda with the support of title sponsor Giorgio Armani, scheduled to run through Saturday 4 June. After yesterday's friendly sail featuring the two classic schooners Shenandoah of Sark (1902) and Mariette of 1915, bringing the splendour of the Golden Age of Sail to the waters off Porto Cervo, today racing proper in the Giorgio Armani Superyacht Regatta got underway.

The Race Committee, after delaying the scheduled start for an hour and waiting for the south-easterly breeze of approximately 8-10 knots to fill in, was able to commence the starting procedure at 2 p.m. for the first division off the line, the Multihulls. Next up was the Superyacht category, using a staggered start procedure with departures every three minutes. First to start was Mariette of 1915, while the WallyCento Magic Carpet Cubed was the final yacht off the line, concluding the starting procedures.
From the starting line located approximately two miles off Porto Cervo, the fleet headed upwind up to the first natural mark of the course, the Mortoriotto rock, before heading on a reaching leg to the Passo delle Bisce strait and entering the Saline Gulf, at which stage the breeze was up to around 13 knots. After rounding the Secca di Tre Monti, the superyachts had a quick beam reach to the Monaci islet, where the multihulls were touching speeds of over 15 knots, before finishing the course in front of Porto Cervo, for a total of 24 miles.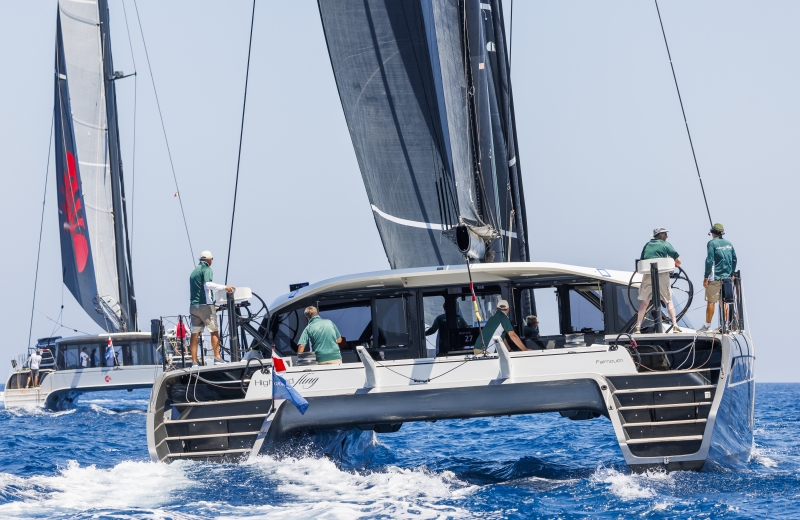 The programme of the Southern Wind Rendezvous and Trophy, meanwhile, saw the fleet of five yachts from the South African shipyard sail to the famous Cala Coticcio, also known as "Tahiti", on the island of Caprera. Here they stopped in the bay for lunch and, once the sea breeze had moved in, departed for a friendly sailing competition in the direction of the Monaci island, rounding the islet of Mortorio and returning to the bay of Pevero. "Today was a perfect expression of the spirit that animates our sailing community" explained one owner on their return to Porto Cervo.
The ranking for the first day of the Giorgio Armani Superyacht Regatta sees the Wallycento Magic Carped Cubed leading in the Superyacht Division. She is followed by Bullitt and Win-Win, just 7 seconds apart in corrected time.
In the Multihull Division the custom-built Allegra prevailed over Highland Fling 17.
Jim Pugh, yacht designer and crew member on Magic Carpet Cubed summed up today's racing: "It was a beautiful day on the Costa Smeralda. We had light to moderate winds, luckily the breeze did eventually fill in. We had a great race course of 24 miles of beating, reaching, running so it was fantastic to be back out here. The boat was going really well and there was good competition in the class. We love these conditions, we love a breeze, we love light air, the boat goes really well in all conditions. It's wonderful to be back here sailing after a few years. It's a great place to sail, the best place in the world. The coastline and the islands, there is nothing like it. No matter how many times you round the same island it's like rounding a piece of art."