Real Team France win 3-way 69F youth battle in Portorož
Real Team France win 3-way 69F youth battle in Portorož
Real Team France emerged from a tense three-way battle for supremacy to win Act 2 of the 69F Youth Foiling Gold Cup 2022 in Slovenia.
Eleven international crews under 25 years old came to the beautiful resort town of Portorož on Slovenia's Adriatic coast to compete against each other in a fleet of 69F high-speed foilers.
During qualifying the thermal breeze kicked up to between 10 to 18 knots making foiling relatively straightforward. In these conditions, Clean Sailors Youth Racing Team proved to be the masters of the higher-wind races, although nothing ever comes easy as CJ Perez explained: "The conditions were really puffy and shifty so it was really important for all the crew to keep your eyes out of the boat, looking for the wind. At times it was really frustrating and challenging because you would be on your foils for five seconds and then maybe you'd crash to the on water. It was all about keeping a good mindset, calm, cool and collected."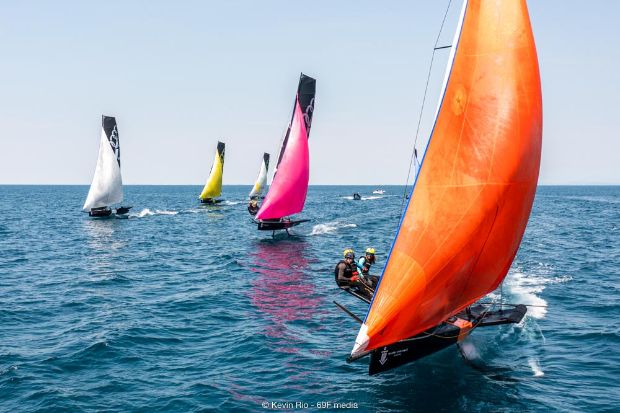 It would get even tougher for the later Knock Out phases of the competition and the Finals last weekend as the 69F Sailing Director, Dede de Luca, explained: "The sea temperature in Portorož was higher than usual for this time of year, about 23 degrees. Which sounds nice, but actually meant the thermal breeze didn't come in as strong as you'd expect for his wonderful place. So for the last part of the regatta we had just 6 to 8 knots of wind. This made it super-tricky for the crews to find the best breeze, and the reward if you get it right is huge, because once you're foiling you can be going three times the speed of the boats still in displacement mode."
"That's the game in foiling," said de Luca after watching the Final. "In marginal conditions it's critical to find the best wind and stay in it for as long as possible, as well as the ability to trim the sails and foils in the best way for promoting early take-off."Charles Dorange from the winning crew commented: "The conditions made the race course and the decision making pretty complicated, with not much wind to work with. The pressure was really high for the last trace of the day because it counts for double points, but we did a good job and we're really pleased with how we won the last race. Now we need to do more training before we come back for the next event."