Sled Lead TP52s, Magic Carpet 3 Win IRC Duel at 16th Sail Racing PalmaVela
Sled Lead TP52s, Magic Carpet 3 Win IRC Duel at Sail Racing PalmaVela
The Bay of Palma was on excellent early season form, offering a brisk southerly breeze which moved slightly more to the west over the day, reaching up to 18kts at times. The two IRC maxis, the Wally Cento Magic Carpet 3 and the 83ft Reichel Pugh designed Cookson one off Vera (previously My Song) sailed a 33 nautical miles coastal course up to Santa Ponsa. Sir Lindsay Owen Jones' Wally won that race convincingly, holding a margin of two minutes and 50 seconds on corrected time after four hours of racing.
A week of hard practice on the Bay of Palma with both of the Plattner family's Phoenix TP52s paid off for Tina Plattner and crew. Father Hasso Plattner was training last week but has commitments outside Europe this week so is not racing. Added to two weeks in March in Valencia both Phoenix teams are in the best possible shape for the 52 Super Series season. With Ado Stead calling tactics supported by strategist Michele Ivaldi, Phoenix read the pressure and the right side of the course wind shift well on the first leg and were able to open a sizeable distance on the fleet to win the first race of a major regatta this season for the TP52 fleet.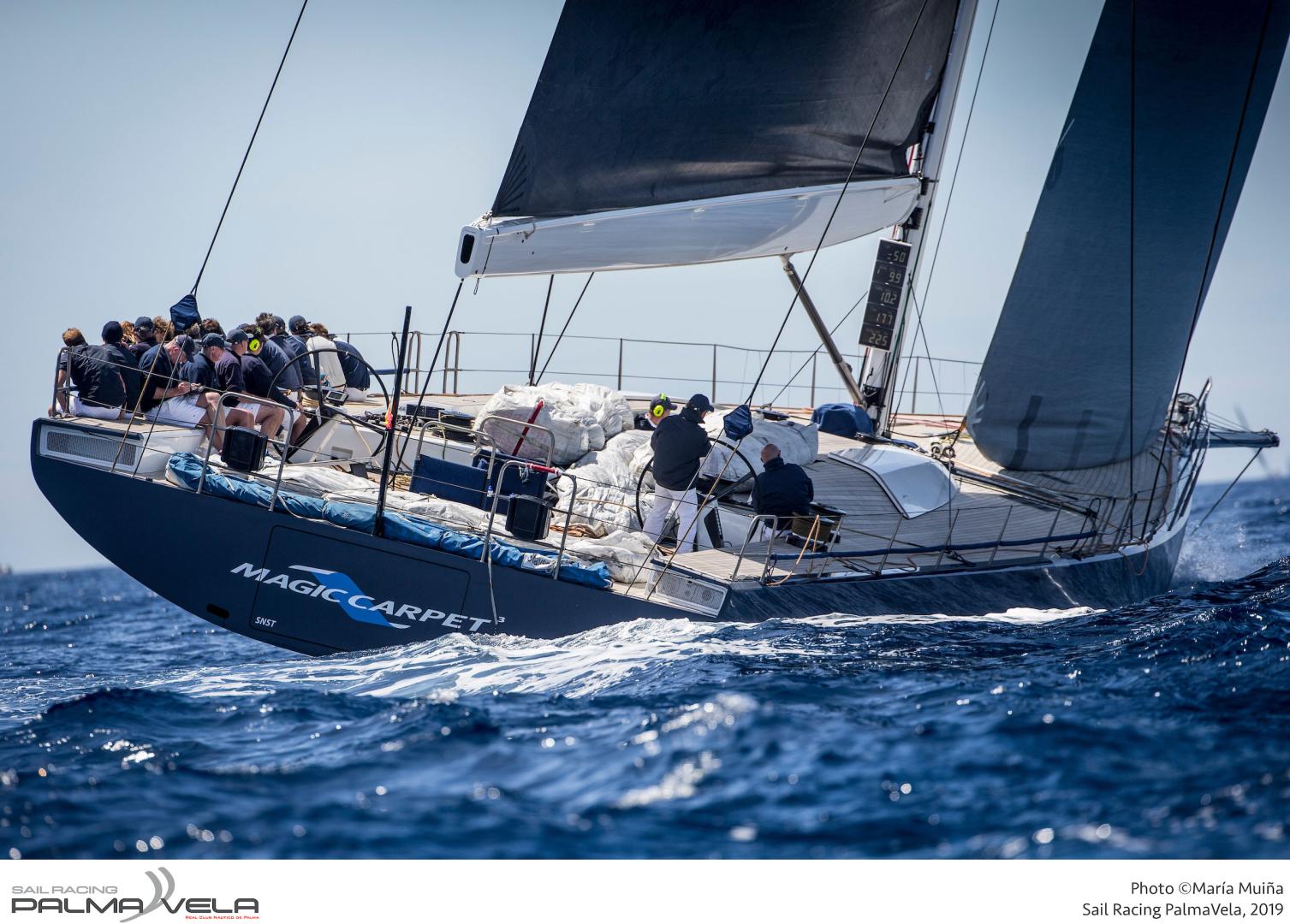 "It was a surprisingly good way to start our season. It was cool. We did these two weeks in Valencia and last week we worked with our two boats together and I think that made a difference. It is tough right now on the shore team to have the two boats running but it is so good for my Dad and I to have the two boats and be able to work together. We are completely in control of what we want to do and what we want to practice and so we have been doing a lot of manoeuvres, tacks, dips, gybes and that is getting us to be more confident in close quarters stuff and generally," explained Tina Plattner.
"We are looking forwards to the two 52 Super Series events we will do with both boats Mahon and Puerto Portals, that is cool. And it is great for our relationship, Dad and I, we are spending time together and talking about the sailing all the time, we are having Dad daughter time and this probably the most time we have spent together for years. We are both loving it."
Sled have six times America's Cup winner Murray Jones as strategist, this week supporting tactician Adam Beashel and they found good speed in both races, winning the second contest of the day. Jones recalled,
"We had good races, we got away clean from the blocks in both races and so could sail our own course in both races and that made a difference. First race we were just behind Phoenix and second race we got away. We went the right way, on the right of the course. And the boat was going quick enough that no one could bother us."
While Phoenix have been training hard this past week, taking a day off prior to the regatta Sled's owner driver Mr Okura flew in yesterday and was straight into the groove today after one day's practice.
"He certainly seems well able to just step on to the boat and steer it well. He is awesome. He is very good at it and just jump straight on and do it."
German owner driver Müller Spreer is confident in his boat and team, poised in second after two solid third places today:
"We had a little problem getting straight up to speed off the start line in the first race and we caught up well and gained and gained and gained. Second start was better but we got pinned to the left and it was hard to get back from there. We had enough training in Valencia and the boat feels much better all round this year after the keel change, rudder change and change in the cockpit."
It was the first day on the water for the brand new Bronenosec, the only new build boat this season, which was only launched and trial sailed a few days ago:
"The boat felt great. It is always exciting after all these weeks of hard work to finally have a new boat out there and racing," says Alberto Barovier, project manager for Bronenosec. "And it went well. We were in the mix, racing alongside Azzurra and the others and so that was good for a first day."
Tactician Morgan Larson (USA) sails with 470 gold medallist and 49er world champ Sime Fantela as strategist on the new boat, which has several new faces on board.
Larson explains: "The new boat is fantastic, one of the nicer builds I have seen but we did only three days shakedown sailing in Valencia, just setting up really, and it was finally only yesterday when we ground things on a bit and started to show that we need to be a bit careful. This is just a tune up for us, this is the same boat effectively that these guys were racing a year ago, they have had a week of training in Valencia and so we are a long way behind them. The boat feels great, it feels a lot like the Quantum, they are all as close you can get now. We have five new guys who have not done the 52 Super Series before and so we have talent from all over, from Croatia, some young Russian guys who have a lot of talent."
Action resumes tomorrow Friday, the second day of racing, with 100 boats of all classes, other than the handivoile classes which start Saturday, all competing in the Bay of Palma. The schedule for this second day of racing includes coastal races for the Mallorca Sotheby's ORC 2, 3 and 4-5, Classic and Spirit of Tradition classes, and windward-leeward races for all other classes.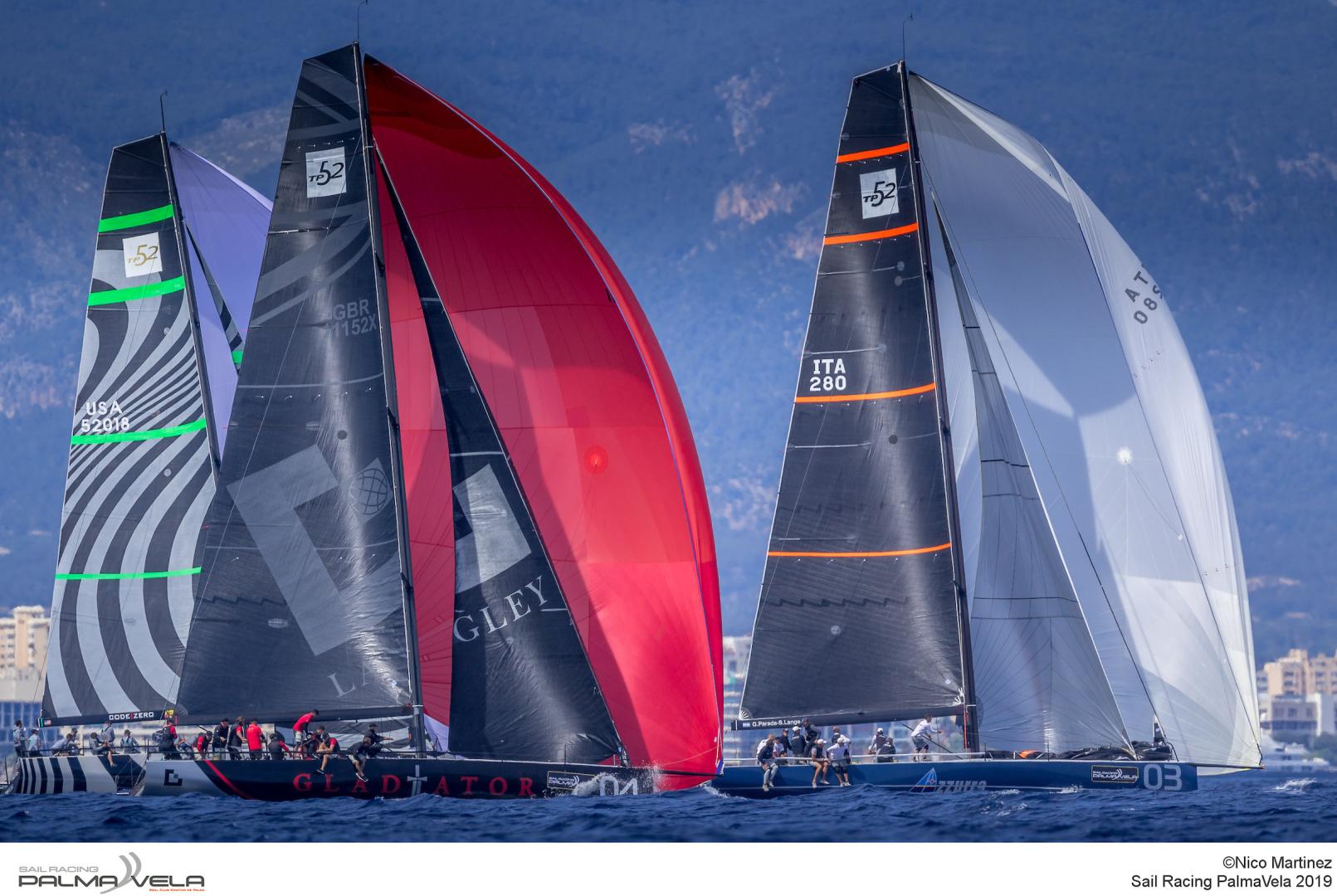 Overalls Day 1
Position / Boat / Country / Skipper / Races / Total Points

IRC
1. Magic Carpet 3 (GBR), Sir Lindsay Owen-Jones, 1
2. Vera (ITA), Miguel Galuccio, 2

TP52
1. Sled (USA), Takashi Okura, 2+1=3
2. Platoon (GER), Harm Müller Spreer, 3+3=6
3. Phoenix (RSA), Kristina Plattner, 1+7=8
… 10 boats