J/70, Melges 24 and 69F winners of Bacardi Winter Series event 2
All change in the weather on the final day at Bacardi Winter Series, January 28-30 2022, with sun and a chilly north north-westerly 7-12 knot breeze.

Teams were out on the race track really early to tune up in what was a stable and more even breeze across the course compared to Saturday. But, the breeze dropped away forcing the J/70 and Melges 24 to head ashore after just one race, with the series discard intensifying the leader board shuffle for glory. Three races for the 69F and no change in the overall line-up.

Bacardi Winter Series Event 2 winner trophies went to 'Dingbat' in the J/70, 'Raza Mixta' in the Melges 24 and 'Team Tilt' in the 69F.

The fleets now advance to the Bacardi Cup Invitational Regatta from March 9-12, 2022. where they will joined by the Viper 640 and VX One and the iconic Star Class will compete for the 95th Bacardi Cup from March 6-12, 2022.
J/70
Racing got underway on schedule for the J/70 with a clean start, but not a good mid-line placement for series leader going into the day, Richard Witzel on 'Rowdy'. Closest rival 'Dingbat' opted for the committee boat end of the line and it paid, as they took the lead on the second upwind, secured the race win and leapfrogged into first overall, with 'Rowdy' dropping to leader board second after a 7th place finish.

The Race Committee attempted a second race, but called it off as the wind pretty much died completely.

Two-time Olympian Thomas Barrows (USA) who made a first time appearance on winning team 'Dingbat' said, "It was super shifty conditions all over the place, trending right throughout the day with big left shifts and it was pretty stressful racing. It was really fun to be with a new enthusiastic team and obviously we improved as the event went on."

An incredible passage of play from Charles Thompson's (GBR) all-star team on 'Brutus' who came together as a crew for the first time for their debut appearance in Miami. Their 2nd place finish upgraded them from 9th overall going into the day to third overall by the end, boosted by discarding their 15th place from race 1.

"You can't have a team that has done as well as we have, coming third for our first regatta without some great support," grinned Thompson. "So thank you to Kenny Harvey for preparing the boat so well. I think we did ourselves proud. We were a bit worried after the first race coming 15th that we didn't have what it took, but Sam Carter, Ben Saxton and Twiggy helped us improve over the next two days."

Sam Carter (GBR) continued, saying, "It has been fantastic racing. Both Twiggy and Ben have done a fantastic job in calling tactics and we just focused on a lot of gear changing, trying to keep the boat quick all the time and the guys kept us good in what we needed to do tactically. So we just improved as the days went on and it has been a good start."

J/70 – Final Top 5 results after 6 races
1. Bobby Julien / Thomas Barrows / Alec Anderson / Chris Watters (USA 639) - 19 pts
2. Richard Witzel / Tomas Dietrich / Carlos Robles / Jud Smith (USA 1562) - 22 pts
3. Charles Thompson / Sam Carter / Ben Saxton / Chris Grube (GBR 1123) - 26 pts
4. Michael Illbruck / John Kostecki / Patrick Wilson / Will Felder (USA 1524) - 27 pts
5. David Jannetti / Travis Odenbach / Andy Horton / Kris Warner (USA 1513) - 33 pts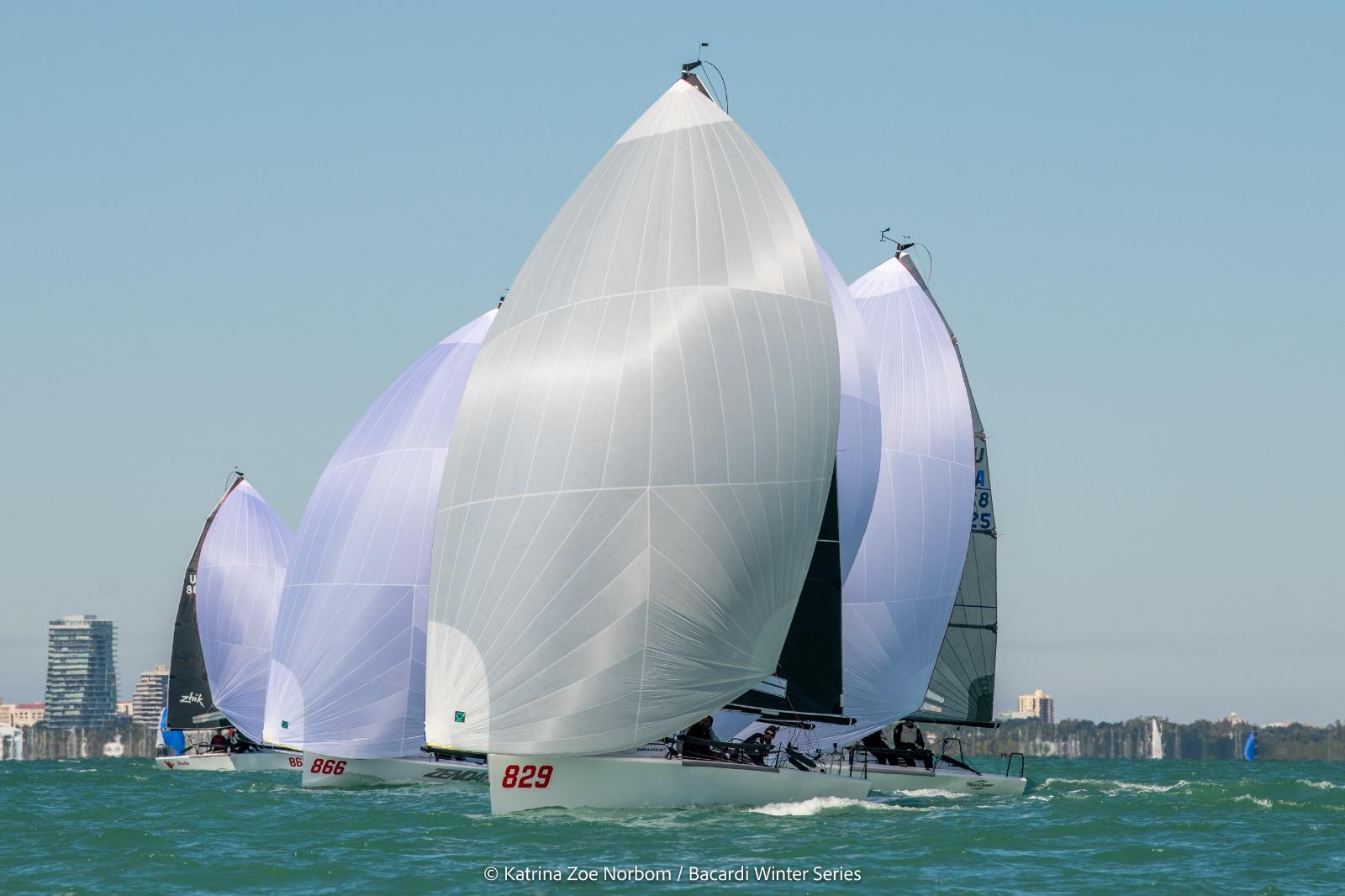 Melges 24
Race 6 featured a light 8 knot breeze, favouring the left side and with the pressure increasing to the windward mark, but it was those who chose middle left that came out on top.

By the second windward mark Laura Grondin's control on the race was insurmountable. Her 'Dark Energy' team extended to leave the pack in their shadow, with Peter Duncan's 'Raza Mixta' and Sandra Askew's 'Flying Jenny' toughing it out for 2nd and 3rd. John Bailey's 'Talisman' found a window to slip through and finished in 3rd, 2nd for Duncan and 4th for Askew.

With the discard now in play and counting a top scorecard of all top 4 finishes, Duncan advanced to series leader from 4th going into the day.

A clean start for race 7 and by the second upwind the fleet was significantly spread out across the course, but it all ended with abandonment as the wind dropped to 3 knots. Disappointment for 'Talisman' who at the point of abandonment held a significant lead on the fleet, but satisfaction with placing third overall.

'Talisman' helm John Bailey (USA) said, "We had an amazing time and it was a fantastic regatta. We saw very light winds, very shifty today and sunshine. The shifty conditions really kept the crew and all the boats on their feet and you had to constantly be playing the shifts or the velocity. The velocity was up and down, the shifts left and right and really rewarded tactically active sailing of the boat. Our crew did fantastic on the sail handling, adjusting, shifting gears. Mike Buckley did an amazing job in terms of tactics, making sure we were in phase and sailing fast and it was a lot of fun. We can't wait to come back here for the March event."

Melges 24 – Final Top 5 results after 6 races
1. Peter Duncan / Victor Diaz de Leon / Matt Pitsay / Erik Shampain / Morgan Trubovick (USA 829) - 13 pts
2. Michael Goldfarb / Jonny Goldsberry / Morten Henriksen / Matteo Ramian / Emory Williams (USA 825) - 17 pts
3. John Bailey / Mike Buckley / John Bowden / Beth Whitener / Bear (USA 720) - 20 pts
4. Harry Melges IV / Finn Rowe / Ripley Shelley / Jeremy Wilmot / Kate O'Donnell (USA 866) - 27 pts
5. Bora Gulari / Kyle Navin / Norman Berge / Ian Liberty / Dave Hughes (USA 820) - 28 pts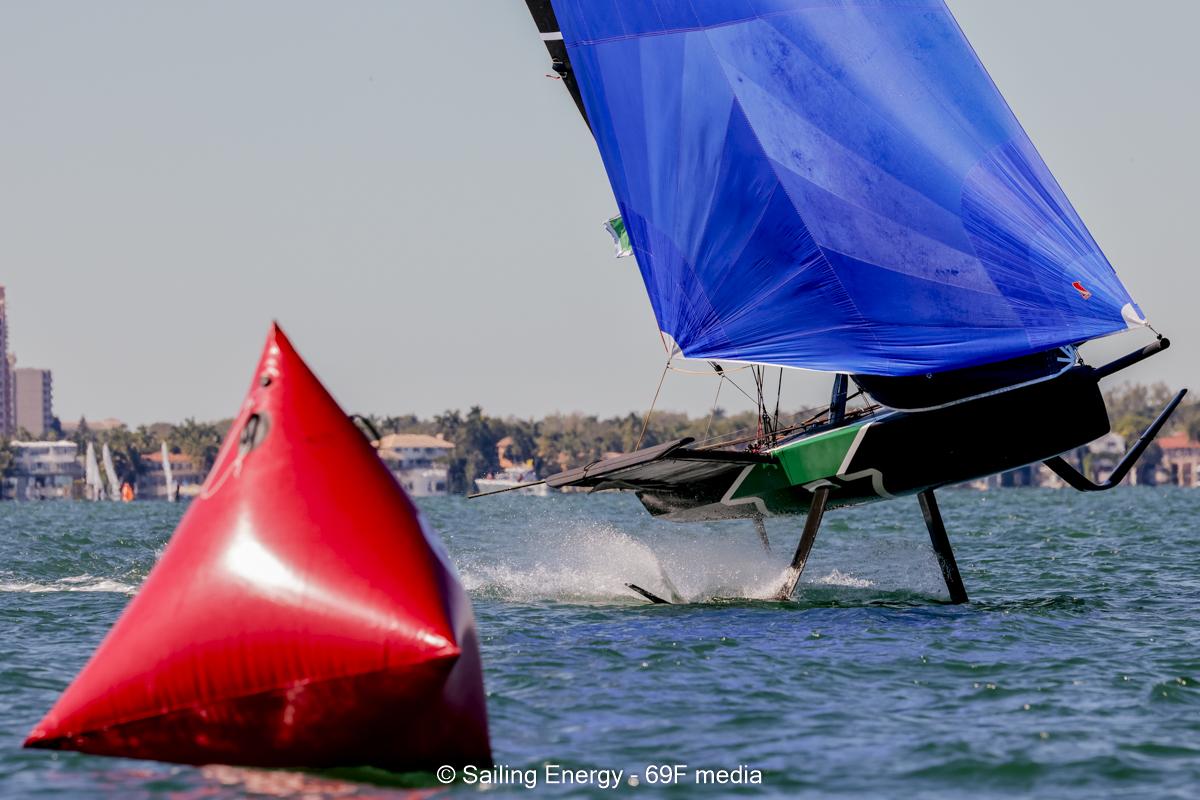 69F
No change in the leader board order after today's three races which saw mainly displacement sailing with a bit of foiling in the light 5-7 knot conditions. Switzerland's 'Team Tilt' tipped the advantage into their hands on Saturday and controlled the race track again today, claiming the opening race 11 win by more than 2 minutes ahead of Denmark's 'Racing Yachts'. 'Team Tilt's' advantage was their boat speed, as they nudged past 20 knots which couldn't be matched by the other teams.

Onto race 12, the second race of the day, and again domination from 'Team Tilt', but this time it was Italy's 'Fly Marga' who pursued followed by 'Racing Yachts'.

Somewhat redemption for 'Racing Yachts' who ended the regatta where they opened, with a win in race 13, but it was not enough and the title for the first ever 69F regatta held in the USA went to 'Team Tilt', second to the Danish and third to 'Fly Marga'.

'Team Tilt' helm Sébastien Schneiter (SUI), two-time Olympian in the 49er, was delighted with their win, saying, "This was the first regatta for us in the 69F and super happy to come away with the win. It was quite a fight with our Danish mates. It was really interesting, learning every day how to sail these boats better and better, but a perfect venue for that here in Miami.

"The 69F is quite an interesting boat, as it is very simple but you still need good teamwork to make it work and yeh it definitely needs some power on the front of the boat, but it is quite easy to helm and quite intuitive with the foiling.

"We didn't really know what to expect when we came here in Miami and our main goal was to start sailing together as a team. It was our first event together with Stuart and Jason and we are going to do a lot more in the future on different projects, so it was good to get to know each other, sail a bit together, work on our racing skills and communication skills and for that this was perfect."

Jason Saunders (NZL), team mate on 'Team Tilt' and two-time Olympian, added, "It was awesome! Yesterday was so nice to be able to get out and we thought that maybe it was going to be a bit too windy, so in the end it was perfect racing. This class goes really well with a bit of breeze and we had plenty of action out there, a few capsizes and some tough manoeuvres, so it was really fun, really enjoyable."

The debut event of the 69F appearance on USA waters marks a milestone in the expansion of the class and its racing circuit. A delighted Dede De Luca, 69F Sailing Director, praised the teams saying, "Congratulations to 'Team Tilt' who dominated the event. It has been nice to see a lot of overtaking and fights on the water. Well done to 'The Yugs' that finished fifth and the only team that didn't take any penalties. It has been a very nice event and we are looking forward for the next.

69F – Final results after 13 races
Team Tilt (SUI) - Sebastian Shneiter / Stuart Bithell / Jason Saunders – 240.5 pts
Racing Yachts (DEN) - Jonas Warrer / Christian Peter Lubeck / Juan Navarro – 228.5 pts
Fly Marga (ITA) - Matteo Pilati / Alessandra Angelini / Francesco Rubagotti – 216.5 pts
Convergence (USA) - Ravi Parent / Ava Wilson / Cali Salinas / Ben Rosenberg – 209.0 pts
The Yugs (ARG) - Eric Monez / Nicolás Aragones / Jeniffer Canestra – 202.0 pts
Main Squeeze (USA) - Eamonn Delisser / Edward Cabassa / Severin Cunningham Gramm – 183.0 pts