ORC and IRC winner Scuderia 65' Hagar V designed by Harry Miesbauer and owned by Gregor Stimpl
Almost all in at the second edition of the Aegean 600
Only two entries remain on the race course after 5 days of racing in the second edition of the AEGEAN 600, organized by the Hellenic Offshore Racing Club (HORC). These two are expected to finish tonight, well ahead of the official time limit of tomorrow afternoon at 1400 local time, exactly 6 days after the start last Sunday in this 605-mile race.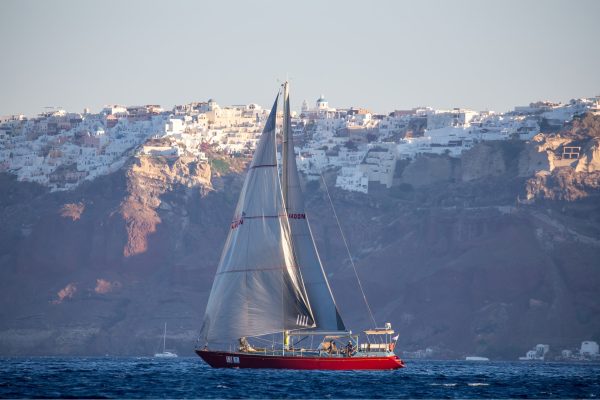 One of these entries making their way west towards the finish line at the ancient Temple of Poseidon is Tim Wilson's Holland 68 FOUR SEASONS IV (AUS, shown above transiting Santarini), entered in the Maxi Class. It may be ironic that a boat this size is in the back of the fleet, but this is an old design from the IOR era that has been sailed around the course with a reduced number of crew that would have normally raced this boat "back in the day."
Yesterday on the YB tracker the team looked stuck at the gate in Mykonos, and then soon thereafter they were shown to be parked at the adjacent island to the west. We're unsure the full story yet, but the team contacted race control and said they "Have technical difficulties and breakages, [and are] anchored for the night, will resume racing in the morning."
Which is precisely what they did, and at press time they are 40 miles from the finish travelling at 4.7 knots and are thus expected tonight.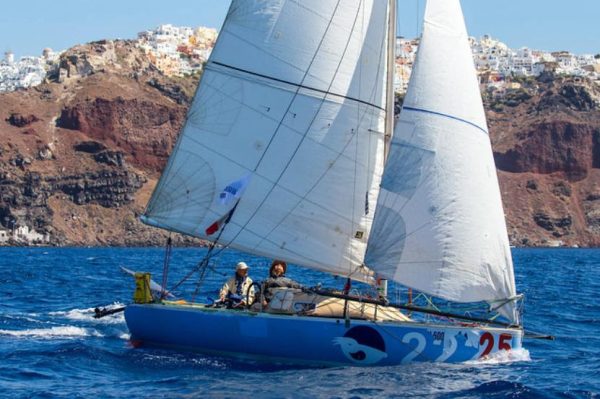 The other team still on the course about the same distance out from the finish is the IRC and ORC DH entry KALLISTI (GRE, shown above transiting Santarini), a Mini-Transat class design of only 6.5 meter length and raced by Athanasios Gkikas and Nikos Lykos. This team is racing by far the smallest boat in the fleet and will no doubt receive tremendous applause at the Awards Ceremony tomorrow evening for their tenacity and perseverance in taking on this long and challenging course in that design in a Double Handed format.
Their progress, however admirable, is still not fast enough to catch the DH class leaders Andrejz Rozycki and Pawel Tryzna on their JPK 10.30 PNEUMA (POL). We spoke today with Pawel who was drying out the boat after their finish last night after sunset. What he said matches the themes heard from every entry in this race: challenging conditions, a difficult race course, a lot of work shifting gears as conditions changed…and also frustration but then elation when the race was done and a promise to come back again.
"I've been racing mostly in the Baltic for 30 years and this is the toughest I've every encountered," he said. And this is a tough team: they have been Polish national DH champions in a region that just last week produced 91 entries in the ORC DH Worlds in Sweden as part of the Gotland Runt, yet they wanted a new DH challenge in the Med region. They laid out a plan to buy their boat in France, and do the Giraglia Race on their way to race the Middle Sea Race in Malta last Fall. In what was a rough edition of this race they had an instrument system failure and opted to withdraw not being familiar yet with their boat, just one of over 20 entries that withdrew in this race.
So, completing the AEGEAN 600 was especially gratifying for them after all their efforts, both in preparation and around the race course.
"There were times I wanted to quit, to never go sailing again," he said, saying their instruments once showed an enormous wind gust at hurricane strength. "But here we are, planning our next race, which is probably back to Malta." For next year he says they will consider other races in DH format, such as the 2023 ORC DH Worlds in Barcelona, among other racing events.
Tomorrow evening there will be an Awards dinner celebration in Lavrion to bring all the competitors, organizers and sponsors together to celebrate a successful second edition of this event, now becoming a legend among the world's 600-milers.
Today's last daily race analysis video with SEAHORSE Magazine's Dobbs Davis provides additional insight on the race based on weather patterns and position data of the fleet from YB trackers.