At FITUR the presentation of the 2022 Xacobeo 6mR Worlds
The International Tourism Trade Fair (FITUR) in Madrid has yesterday hosted a presentation of the Xacobeo 6mR Worlds, a global championship regatta which will be held in Sanxenxo (NW Spain) next June and which will bring together a 6mR fleet that will once again make Galicia an international sailing capital.

The Vice President of the Galician Government -Alfonso Rueda-, the director of Tourism of Galicia -Nava Castro-, the mayor of Sanxenxo -Telmo Martín-, the Head of all Spanish domestic businesses at ABANCA -Luis Beraza-, the president of the Cluster Tourism of Galicia -Cesáreo Pardal-, the president of the Royal Spanish Sailing Federation -Javier Sanz- and the president of the Real Club Náutico de Sanxenxo -Pedro Campos- were all in attendance among others at the prestigious event.

Sanxenxo's Mayor was in charge of proceedings and he opened by stating: "Being able to celebrate the Worlds here it is undoubtedly a source of great pride for Sanxenxo and for Galicia, it will be even better than the Europeans last year and with the Real Club Náutico as organizer, with whom we are cooperating totally, success is always assured."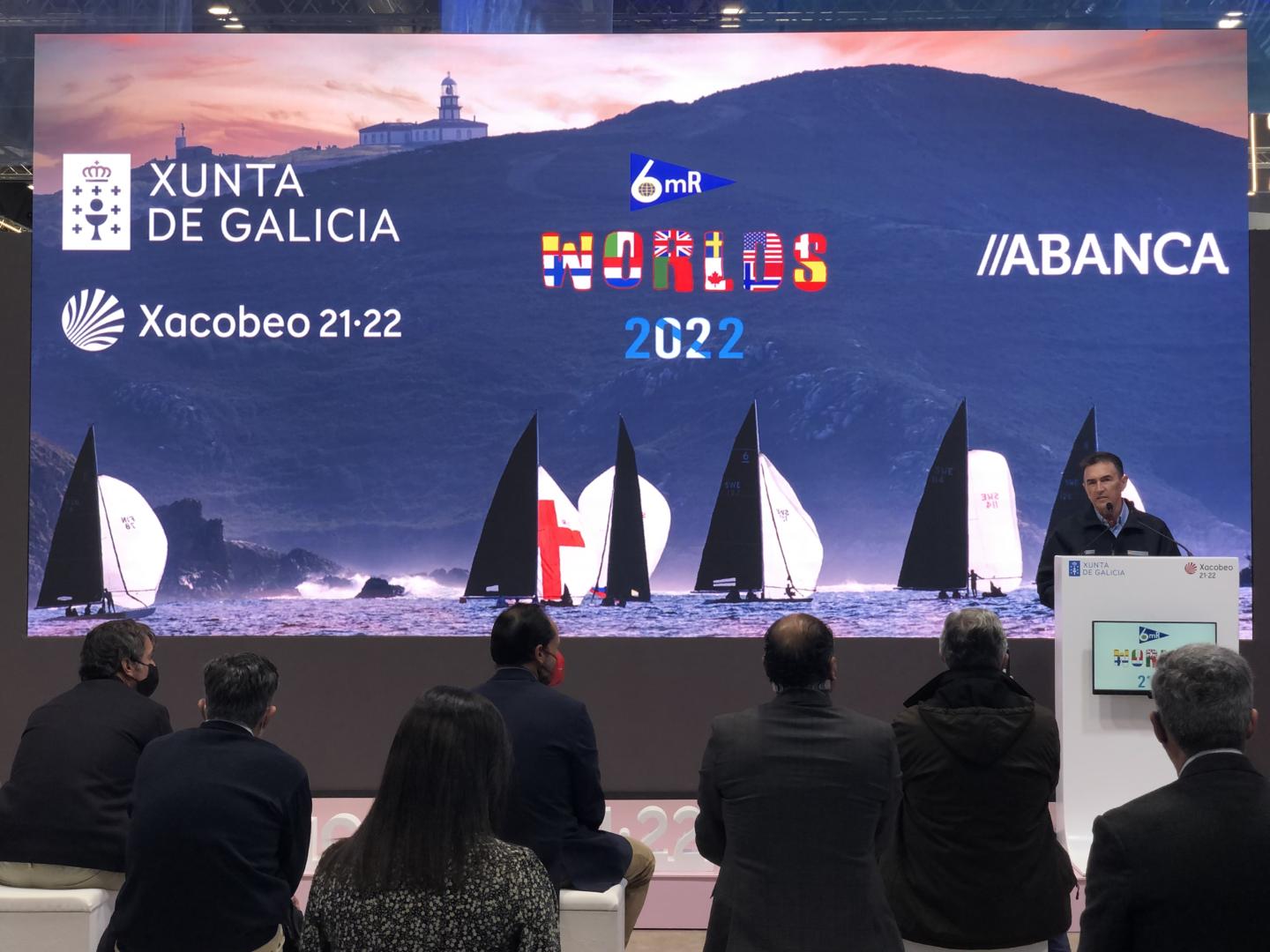 Pedro Campos thanked supporters Xacobeo, the Sanxenxo City Council and the Xunta de Galicia as co-organizers of the event, as well as the sponsors ABANCA, Viajes InterRías, Quirón and Autesa Volvo. He added: "The Xacobeo 6mR Worlds will once again have as one of its main objectives is augmenting the low season tourism in Sanxenxo and the intention of the organization is to increase the number of participants by some 30% whilst maintaining or improving on the quality the European Championships already enjoyed."

Before ending his speech, Campos made mention of a sailor from Vigo and the crew onboard 6mR "Bribon 500", Alberto Viejo, who last weekend suffered a serious accident training in the Vigo estuary: "Before finishing I want to send all the strength and affection to our friend and colleague Alberto. Both he and his family know that he has our support and we all wish him a speedy recovery."

The Vice President of the Xunta de Galicia, Alfonso Rueda, has been in charge of closing the presentation. "For the Xunta de Galicia it is an honour to be part of this World level event. This project started out in 2020 at a very difficult time but we have already shown that we can hold an event offering guarantees, such as the Spanish Championship first and then the European Championship in 2021 demonstrate, so there is no doubt that that the world championship will once again be a complete success for Galicia."


Xacobeo 6mR Worlds, from June 10th to 19th
After the cancellation in 2020 of all international events due to the pandemic, the European Championship held last September in Sannxenxo was the first major sailing event to be held in Galicia. Now, after the success of the continental event, the Xacobeo 6mR Worlds will once again bring together the Six Metre world fleet in the Rías Baixas between June 10th and 19th to compete in the most important regatta of the season.

Many of the teams are already in Sanxenxo and that in the coming months they will take part in the Spanish national circuit, which will once again serve as an important warm-up for the big event of the year.