Yanmar announces Mid-Term Strategy, FY2022 – FY2025
Yanmar announces Mid-Term Strategy, FY2022 – FY2025
Yanmar Holdings Co., Ltd. has formulated the Yanmar Group's mid-term strategy, "Change & Challenge MTP2025" (hereinafter referred to as the mid-term strategy) for the period from fiscal 2022 to 2025, which focuses on Green House Gas (GHG) and environmentally friendly corporate activities to realize a sustainable society.
The Yanmar Group has set its Brand Statement as "A SUSTAINABLE FUTURE" by building a "an energy-saving society," "a society where people can work and live with peace of mind," "a society where people can enjoy safe and plentiful food," and "a society that offers an exciting life filled with rich and fulfilling experiences. In our mid-term strategy starting from fiscal 2022, we will develop our business in the four business fields of harnessing power, social infrastructure, food production, and excitement in order to realize these four societies.
Financial Objectives of the Mid-Term Strategy
The Yanmar Group achieved record-high sales and ordinary income in FY2021 by implementing fundamental structural reforms and cost reductions during the coronavirus pandemic. From FY2022, we will work on five strategic issues in the strategy implementation phase, aiming to achieve consolidated group sales of 1 trillion, 84.2 billion yen, ordinary income of 58.8 billion yen, and ordinary income margin of 5.4% in FY2025.
 Five Strategic Issues for FY2025
Amidst a changing global business environment, including increasingly uncertain global conditions, SDGs initiatives, and the rapid progress of digitalization, issues such as the transition to a decarbonized society, labor shortages in food production, and food supply shortages on a global scale have a direct bearing on Yanmar's business domains and must be addressed. The Yanmar Group aims to achieve its mid-term strategic goals through the implementation of five strategic tasks.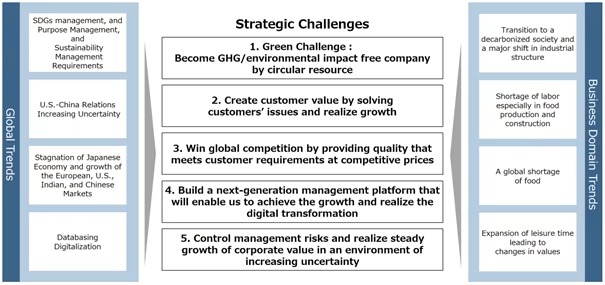 Challenge to become a company that circulates resources to be GHG-free with no environmental impact (YANMAR GREEN CHALLENGE 2050)
To reduce GHG emissions from the use of our products, we will work to make all of our products, including finished products, fully green by 2050. We will also contribute to our customers' GHG-negative and resource-recycling activities by realizing GHG-free corporate activities and environmental impact-free corporate activities based on circulating resources. By 2025, we aim to commercialize electric powertrains, electric agricultural machinery, and other products.

Transformation into a Customer Value Creation Company
The mission of the Yanmar Group is to solve the issues faced by the end users of our products through our four business fields. We aim to be a "Customer Value Creating Company" that provides products (products and services) that solve new customer issues in addition to those of our existing customers, without being limited to manufacturing alone. In order to create customer value and achieve growth, we will promote our business based on the four concepts of "deepening and exploration" in our business axis and "deepening and exploration" in our regional axis.

Improve quality and cost competitiveness required by customers
We aim to improve our cost competitiveness by reducing production costs of our Global Model machinery with industrial engines from our Indian plant, strengthening cooperation with our affiliate ITL, the third largest tractor manufacturer in the Indian market, and through a global materials strategy targeting a 15% increase in overseas procurement ratio. We will also work to target reductions in SG&A expenses of 21%, through continuous cost structure reforms.
Building a Next-Generation Management Infrastructure for Digital Transformation (DX)
We will introduce a personnel system that maximizes the use of human resources on a global basis and build a manufacturing system that establishes efficient production and new technologies. We will also establish a new division within Yanmar Holdings that will be responsible for DX and build an IT management foundation that will realize the future growth of the group, aiming for next-generation management that responds to the digitalized world.
Addressing Management Risks
We will take actions to control business risks in an environment of increasing uncertainty. Tackling geopolitical risks and foreign exchange risks, we will steadily increase corporate value.