World Cup Series: Netherlands and France take top prizes at Allianz Regatta
World Cup Series: Netherlands and France take top prizes
Bart Lambriex and Floris van de Werken had 49er gold in the bag heading into the final day and were joined on the top step by Duko Bos (ILCA 7), Maxime Jonker (ILCA 6) and Luuc van Opzeeland (iQFOiL).
On a medal race day that brought ideal, sunny conditions and 13 knots of wind, Axel Mazella and Jessie Kampman were the heroes as France locked up the Formula Kite categories.
Jonker's purple patch continues
Maxime Jonker wrapped up gold in an exciting climax to the ILCA 6 racing.
The Tiel native took four of eight bullets and second place in the medal race was more than enough to take victory with 13 points, as
Germany's Julia Buesselberg snagged silver with 22.
Jonker has made a superb start to the season having finished fourth at the European Championships and taken bronze at the World Cup in Palma.
"It's nice to have a bit of a gap coming into the medal race, it always makes you feel more comfortable coming in with a lead," she said. "It feels good to win."
The race for bronze was intense as Mirthe Akkerman aced the medal race to climb from fifth to third at the last gasp.
In a thrilling Dutch tussle, Akkerman pipped training partner Marissa Ijben to the podium by countback with both landing on 37 points.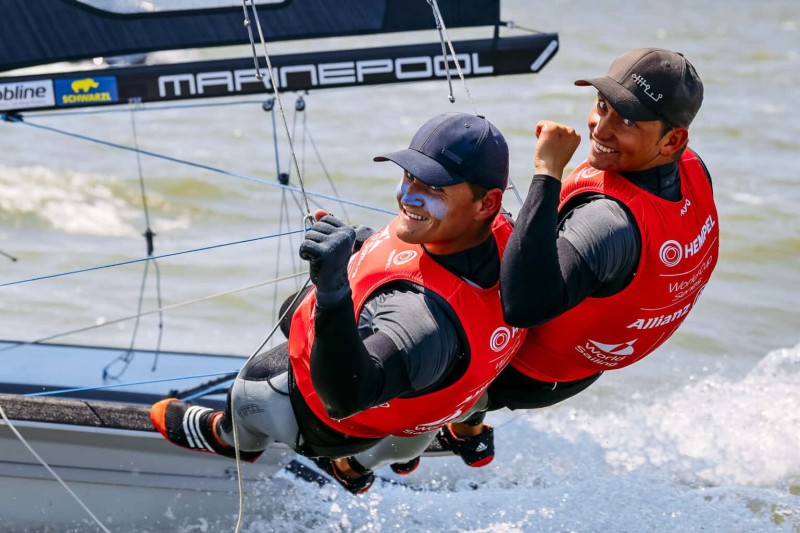 Bos survives late fright
Duko Bos claimed victory in the ILCA 7 class but not before a medal-race scare that left the Dutchman scrambling for the finish line.
Bos' nine-point lead at the top of the standings looked in peril as he rounded the windward mark in last place.
But a late charge saw him surge through the field and into second place, leaving him on 15 points that was comfortably enough to hold off Finland's Valtteri Uusitalo with 26.
Bos and Uusitalo jousted for a yellow bib that changed hands three times in four races early in the regatta, before the Dutch star pulled away with three successive bullets.
"I was disappointed (in the first part of the race), my goal was to stay in the top three," said Bos. "From there the wind was strong and I'm happy I made it in the end."
Just as in the ILCA 6 class, bronze went down to the wire as Italy's Alessia Spadoni snagged it from Willem Wiersema on countback.
Both struggled in the medal race but Spadoni's 8th place trumped Wiersema in 9th to reach the podium.
Mazella and Kampman taste Formula Kite success
France swept the board in the Formula Kite categories as Axel Mazella and Jessie Kampman held their nerve to take gold.
Frenchman Maxime Nocher and China's Qibin Huang muscled in on the men's medal series final, joining the in-form Connor Bainbridge, but Mazella prevailed in the opening race to reach the three-win mark and overall victory.
It was a different story for Kampman, who carried no wins into the final series, with Annelous Lammerts needing only one win to grab the gold.
Kampman – sixth in Palma – rose to the occasion and reeled off three stunning victories to take the overall crown.
49er bronze goes down to wire
Bart Lambriex and Floris van de Werken had the 49er title sewn up with the medal race to spare so attention turned to the battle for bronze.
Australia's Jim Colley and Shaun Connor soared from tenth to third in this regatta but were left to rue Saturday's slip-ups for losing their grip on bronze.
They missed the medals by one point despite finishing second in the medal race.
Austria's Keanu Prettner and Jakob Flachberger bagged bronze, their maiden World Cup podium.
"It's an amazing feeling," said Flachberger. "We've got to drive to Kiel tomorrow, so we can't party too much, but there will be a party when we get home!"
Van Opzeeland emerges as top dog
Luuc van Opzeeland found top form when it mattered most to take top spot in the iQFOiL windsurfing class.
Having finished first in qualifying, the Dutchman came into the final medal race fresh and took advantage to lead a home one-two.
His team-mate Huig-Jan Tak took silver with Poland's Michal Polak winning bronze ahead of compatriot Pawel Tarnowski.