New Technical Committee Chairman Jamie MacPhail (middle) on Black Magicduring the 2020 World Championship in Pittwater
5.5 Metre Class Association has appointed a new Technical Committee
The prime roles of the technical committee are to monitor the existing rules as well as to make interpretations for builders and owners.
With a swathe of new boats hitting the water, the role of the technical committee is more important than ever, and there have been frequent requests for interpretation of the sometimes complex Class Rules.
The new Technical Committee consists of Jamie MacPhail, AUS, Chairman Mike Toppa, USA Guy Roland Perrin, SUI Rients van der Woude, NOR Odin Grupe, GER
The new Chairman, Jamie MacPhail, more recently seen as the middleman on Black Magic during the 2020 World Championship, has been involved in the yachting industry for over 38 years. He has owned and managed a number of marine businesses manufacturing composite yachts and cruisers, including sales and project management of a number of very successful IMS and IRC race yachts, such Hobart winners, Hamilton Island winners, Kenwood Cup winners.
"In addition I was a partner-owner in the Australian company that built the Etchells and 11 Metre One Design yachts during the 1990s, and launched the Mumm 36. During this time I have worked as project manager for a number of Yacht design houses including FARR, Mill's, Bruce Nelson and Murray Burns and Dovell."
Since 2011, he has managed Pantaenius Yacht Insurance in Australia and Oceania. "My roll includes the oversight and management of complex insurance claims, many of which involve composite analysis incorporating NDT testing, core sample testing, and the re-creation of laminates to substantiate if, the 'as built' structure meets the design parameters or appropriate class societies."
Guy Roland Perrin is a familiar face around the 5.5 events and has been a class measurer for many years. He is one of the most experienced measurers in the world and is also a measurer for the 8 Metre and 12 Metre classes.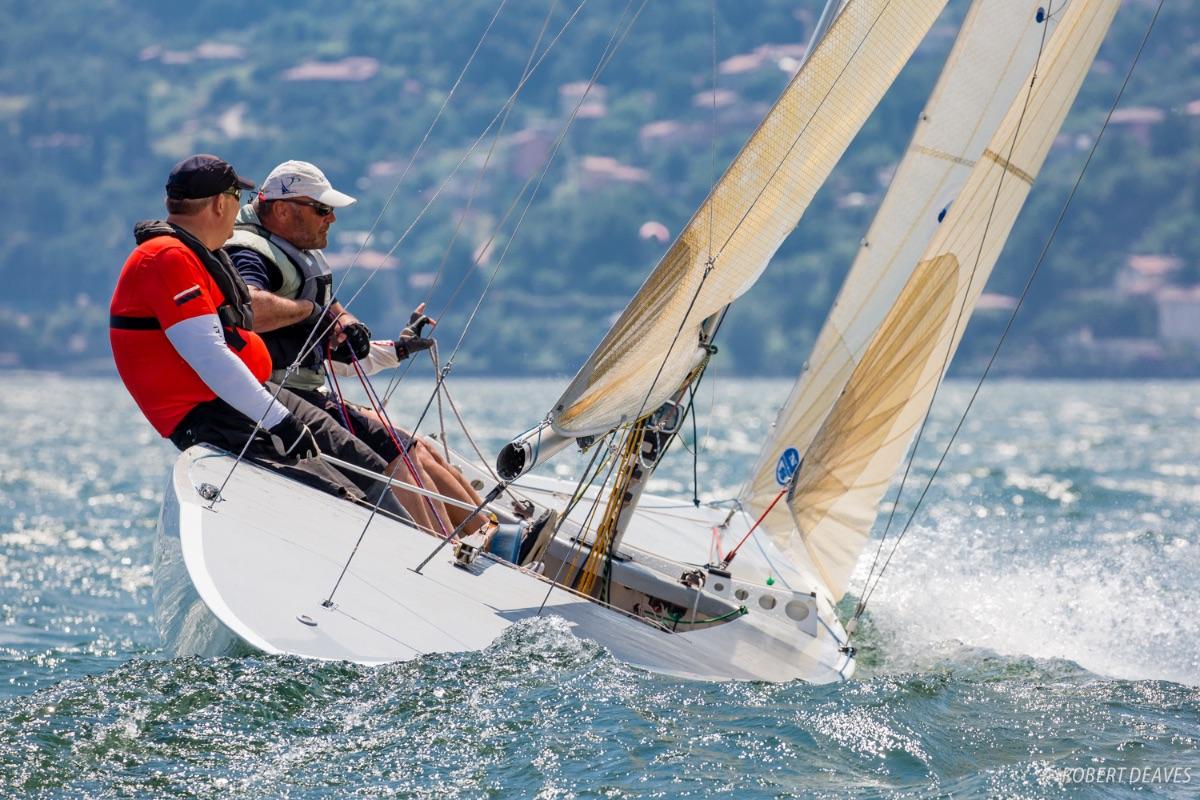 Rients van der Woude is the only past member to be reappointed to the Technical Committee, as well as being a past 5.5 Metre owner racing an Evolution from 2006-2016. He also completed an earlier period on the Technical Committee from 2010.
He grew up in New York USA, moved to Norway in 1979, and qualified in fine craftsmanship in wooden boatbuilding, then ran his own boat shop, and worked as independent contractor for larger yards working on vessels built in classic and modern wood, composites and aluminium.
He also has a degree in mechanical engineering and worked 15 years in the Offshore Oil and Gas Industry. After the oil price crash of 2015 he worked in construction with commercial building interiors as project engineer and project manager.
"I also chair the TC of a Norwegian national sailing class the 12.5 KVM Krysser, which is a 22' classic design from 1929 with an active fleet of approx 30 boats. I have sail raced actively since the 1980s though not always at same intensity. Most. I sill race actively in the classic 12.5 KVM class with yearly National championships."
Odin Grupe is a long time 5.5 Metre sailor, owning and sailing GER 65, Windschleiche since 2012. In 2018 and 2019 he owned and raced a classic 5.5, GER 2, as well.
With a degree in law and leading large service organizations in his professional live he brings the practical view of an active 5.5 sailor and organizational strength to the table.
Besides 5.5 Metres, Odin is also an active sailor in the 2.4 Metre class.
Mike Toppa brings a huge amount of experience to the committee especially with metre boats. He is a two-time winner of the America's Cup in 1980 and 1992, was the sail designer and sail trimmer on America's Cup 12 Metres Freedom/Enterprise, Defender and Eagle. He is a two times winner of the 12 Metre World Championships on KZ 5 and KZ 7, and was second in the 2019 World Championships on US 27. He is current sailing on the 6 Metre, Scoundrel .
His extensive big boat experience includes wins at the Maxi Worlds, Les Voile de St. Tropez, Key West Race Week, as well as offshore in the Bermuda Race, Fastnet Race, Sydney Hobart, Trans Atlantic Races and the Whitbread race on Chessie Racing, sprinkled with one design activity in the E22, Melges 24 and Shields classes. Mike currently works with North Sails in the USA.
Class President, Louise Morton, said, "I am very pleased to be working with this group and am excited about taking the 5.5 Metre class forward into the coming years with a strong Technical Committee. We have a good mix of experience, knowledge and active sailors.
"It's very important that a class such as the 5.5 Metre has a capable and knowledgeable Technical Committee to provide confidence for owners and builders, especially with the level of interest and development in the class at the moment and number of new boats being built."