The first unit of the SW108 Hybrid is under construction
Technology: these are the ingredients that go to making the first SW108, now under construction in Cape Town, a proper smart custom yacht, representing a turning point in Southern Wind's offering of luxury, high performance Superyachts.
SW108#01 Hybrid is the result of a virtuous design process that has benefitted from the passion of motivated owners, the expertise of SWS in building versatile and reliable yachts, the designers' drive for innovation and the owner's experienced project management team.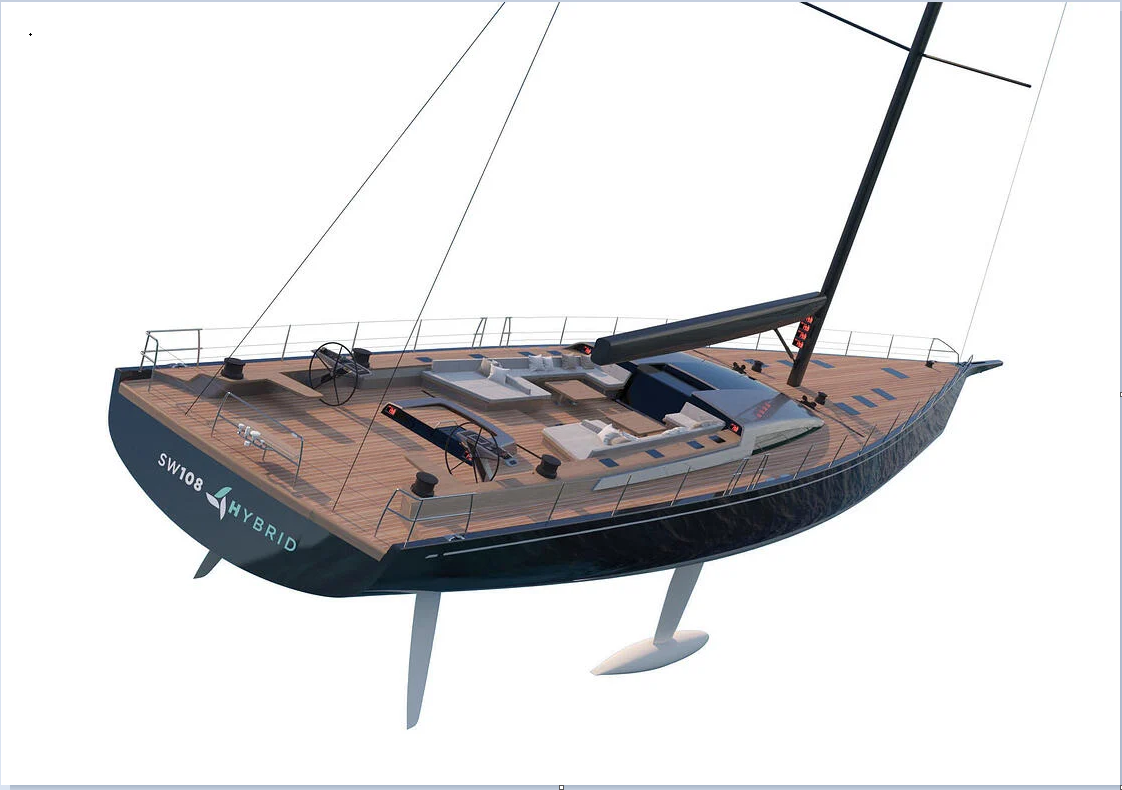 With exterior and interior penned by Nauta Design and naval architecture by Farr Yacht Design, SW108#01 is characterized by a strong focus on performance.
"The production of SW108 will begin with a well-canvassed, very powerful arrangement for exceptional performance in light winds, but also up through the wind range. Configuration of SW108#01's propulsion system, sail plan and appendages was optimized through numerous iterations and refinements to meet the owner's specific performance goals. Southern Wind has the flexibility to accommodate multiple rig and appendage options that will allow the shipyard to tailor the SW108 to many needs and tastes," explains Jim Schmicker, Vice President of Farr Yacht Design.
The yacht will feature an increased sail plan, a lifting keel (4.0-6,2m) and twin rudder configuration, all of which contribute to making her a very powerful yacht. A full carbon hull, deck and bulkheads, high modulus carbon mast and boom, carbon rigging and titanium deck fittings have helped to keep the displacement to only 73.2 tons.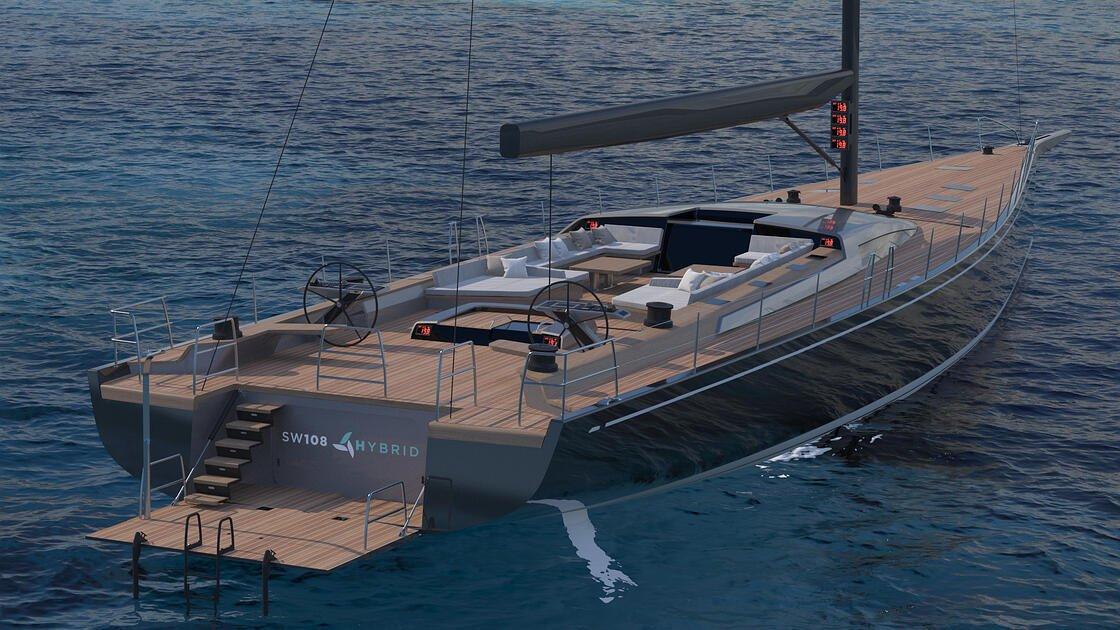 Inspired by the GT lines of the two latest SWS yachts, SW105 Taniwha and SW96#04 currently under construction, SW108#01 is characterized by a deck design specifically created to meet the owner's detailed brief, as Massimo Gino from Nauta Design recounts: "The new deck layout is fresh but immediately recognizable for its clean, sober geometries that include all the touchstones of the GT look in a new configuration. SW108#01 has a redesigned coachroof that lets even more light into the yacht through a central skylight and side windows. The design is more sporty and low slung than the most recent yachts. The guest cockpit is quite spacious and is connected to the interior by a very large companionway that is protected by well-proportioned coamings. These latter incorporate hatches to let natural air flow into the cabins below."
Energy efficient and environmentally conscious, SW108#01 will feature a hybrid diesel electric propulsion system designed in collaboration with BAE Systems, a global leader in the design and manufacture of technological solutions. "We are collaborating with Southern Wind on electric-hybrid power and propulsion for clean and efficient yacht operation. Our next-generation electric propulsion technology uses a modular design with advanced power electronics to optimize liveable space and extend zero emissions operation through improved electrical efficiency. A HydroGeneration mode will recharge energy storage when the SW108 is under sail," says Peter Brooks, Account Manager of Marine and Port Solutions at BAE System
SW108#01 interior features a 4-cabin layouts: the owner's cabin is forward in the quietest area of the yacht and 3-guest cabins are amidship. This arrangement allows for a spacious and enjoyable L-shaped social area forward of the saloon that includes living and dining areas and a TV lounge.
SW108#01 will stand out for the completely new style of her interior: new furniture geometries, wood colors and finishing, lighting system and textures will all complement in a holistic way offering a sense of warmness and elegance.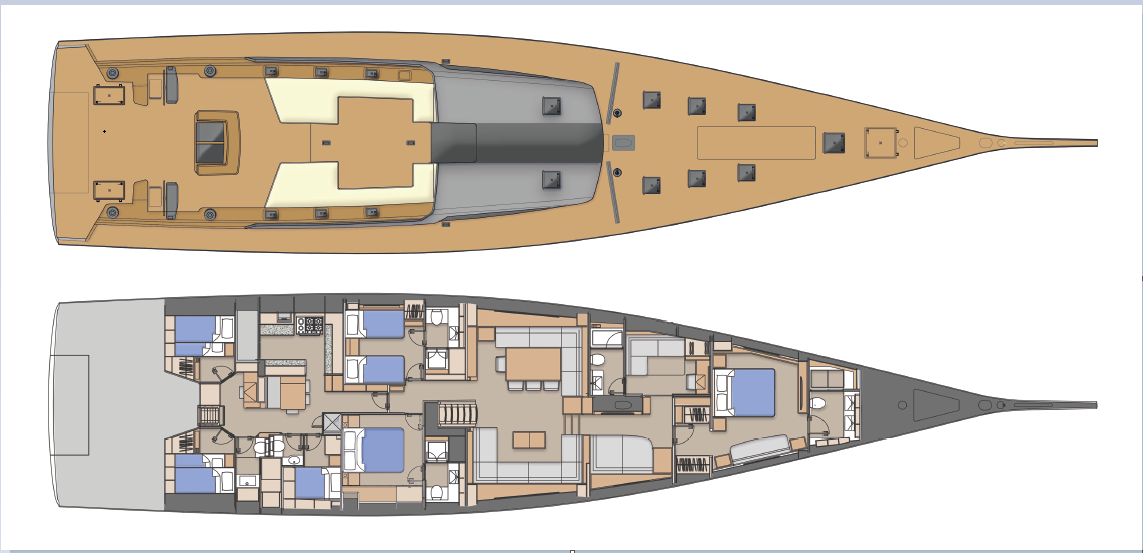 Andrea Micheli, Commercial Director at Southern Wind Shipyard, cannot hide his satisfaction for this great achievement " The conception of this yacht have been stimulating since day one. It's great to meet owners who trust you and offer you the inputs to do something new, though relying in our expertise. We were glad to be supported in the process by Sebastian Allebrodt of A2B Marine, the project manager who accompanied the client in the early phases of the design process. As a shipyard specialized high performance construction, we put at the service of the owner our know how to build what it lends itself to be a real Smart Custom Yacht".
Hull and deck of this first unit in the new SW108 are currently under lamination and the delivery is scheduled for early Summer 2023.