Oyster's much anticipated 60-foot launches to international acclaim
The much-anticipated Oyster 595 has launched to international acclaim with 16 yachts already sold pre-launch. Filling a key gap in the bluewater cruiser market and featuring many design features distilled from Oyster's larger yachts, the Oyster 595 is well-proportioned and extremely versatile. Designed for fast and exhilarating sailing, the 595 can be handled effortlessly by two people thanks to its retractable bow and stern thrusters and hydraulic push-button in-mast furling.

"Every detail on the Oyster 595 has been carefully considered to combine effortless performance, comfort and technological innovations with traditional hand-built craftsmanship," says Oyster's CEO Richard Hadida.
The impressive and flexible spacious layout sleeps eight, easily accommodating family and friends, and can be configured to provide an optional crew cabin if required. Externally, there are flush aft and foredecks, wide walkways with concealed lines and high guard rails. There is plenty of space to socialise around the centre cockpit and helm position, which can be protected by a sprayhood and optional bimini. The swim platform and retractable telescopic passarelle options hint to the high standards aboard the 595, features usually found on much larger superyachts.

Every aspect of the Oyster 595 is designed to suit the customer's individual requirements, from the choice of standard keel or retractable centreboard. The twin rudders enable finger-tip control, whilst the increased hull volume and wide beam aft enables plenty of sail power for speed when on extended passages.

Internally, the contemporary styling offers all the comforts of home, ensuring that living and working on board is truly pleasurable and practical. Customers can select from multiple interior layouts, and a choice of solid wood, interior colour schemes and finishing options, making it one of the most customisable 60-foot yachts on the market.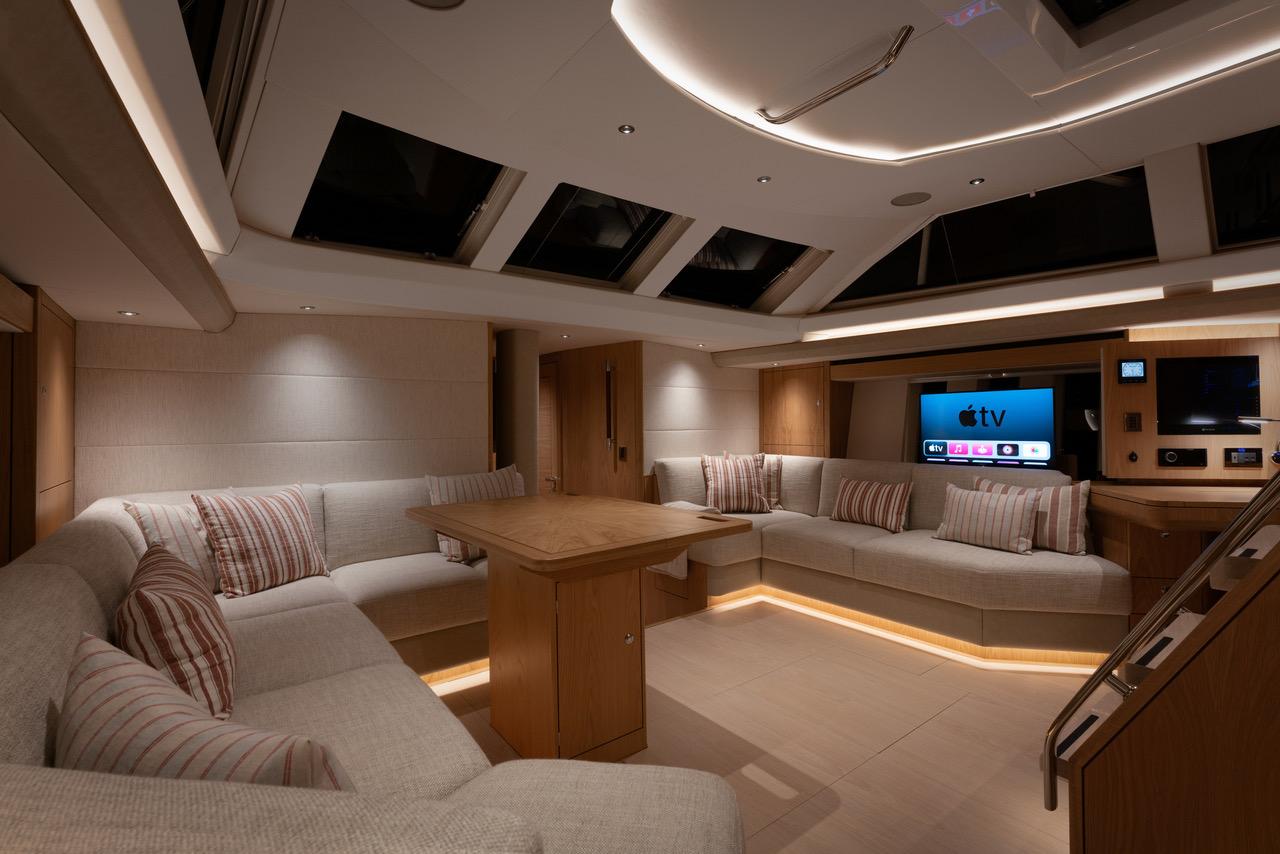 Every internal detail has been carefully considered, from seating that doubles as a daybed to spacious galley with full-size fridge, dishwasher, washing machine and Quooker boiling water tap. Luxurious and spacious cabins feature ample storage space, good headroom and large en-suites with step-less showers. Internally, every living space features Oyster's proprietary controllable mood lighting and touchscreens that provide access to the Oyster Command System™.

Built to stringent and exacting Lloyds Register standards using high quality state-of-the-art materials and the latest production techniques, the Oyster 595 is designed for worldwide adventures. Years of development and research by Oyster has resulted in exceptional sound proofing qualities when under power and every practicality has been considered, including easy access to all the yachts utilities for servicing and inspection.

The Oyster 595 features Oyster's new connectivity and technology systems. This includes the latest navigation, entertainment and communication systems, all controlled at the touch of a button through Oyster's proprietary app, Oyster Command System™. Using many years of practical knowledge, insight and experience from more than 90 circumnavigations, Oyster's design team have developed technology and systems proven for their robustness and reliability. The Oyster 595 is the first of the fleet to feature Oyster's proprietary Guardian Angel System™, which monitors the yacht's systems and performance remotely. Guardian Angel™ provides owners with peace of mind that issues can be identified immediately, rectified or updated remotely and owners alerted as necessary.