Pierre Quiroga - Skipper Macif 2019
Quiroga In Command After Second Consecutive Stage Win, Roberts' Career Best Podium Finish
Quiroga's win today may not have been as conclusive as his Stage 2 success when he dominated the 490 miles technical, coastal leg round the rocky, tidal Breton coast from Lorient to Fécamp, twice breaking from the head of the pack and both times extending. On a leg full of compressions and re-starts which started last Sunday from Fécamp with a reach across the Channel and took the 34 boats fleet around Land's End, Lundy Island off the north Devon coast and to the SW tip of Wales, Quiroga seemed able to always find the speed and guile to build, rebuild and retain a winning margin.
Increasingly Quiroga, who has finished second and then first twice, is showing the hallmarks of the champion of this long, hard edition. Were he to triumph overall next Thursday or Friday – his 29th birthday falling during the leg – he would become the first Mediterranean skipper to break the Breton monopoly on the La Solitaire du Figaro title since Kito de Pavant won in 2002.
Indeed some of his Brittany counterparts – where he has trained with the Pole Finistere in Port La Foret for five years – are already claiming him as Breton on account of his Brestois mother, despite the fact his family's home is near Hyeres where his father and brother have a vineyard and he grew up racing and training with groups in Antibes, with the French Olympic squad on Marseille and winning the Mediterranean Training Centre's talent scholarship search in 2016.
Last Sunday night he led at the South Pullar turning mark but lost time there in the strong tides and light winds. He regained the lead on the light winds westerly passage down the channel, lost again at Casquets and was behind up the north Devon coast when a breakaway group profited inshore and out of the tide. He took the lead again on the 105 miles stage back to the Scillies and he was at his nerveless best defending through a dirty, misty, drizzly final night at sea to hold off second placed Alexis Loison (Région Normandie) who pushed him hard until the final few miles into Roscoff and finished eight minutes and four seconds behind.
"It was a crazy stage from A to Z." smiled Quiroga in Roscoff, "I started with a great first day when I was calm and sunny, downwind. Then it closed all back up after Longships. And then there were more compressions, more catch ups right into last night. And last night was really dark. All the time I told myself I had to do my own race, thinking the west was going to come good. But it was mad to see the boats so close together at the finish and to tell myself I was going to win."
He acknowledged, "When you're on your little cloud like this, it's magic. But it's down to some strategy, a little bit of gut feeling, a little luck. But I was really mad at myself after Saint Gowan, I did everything I could. I took it as a warning and I got a grip of myself and then everything went wonderfully. I hit the gas pedal, I cranked it up, and it went from there. It is mad! I made the right decisions, always on the attack; although at first, I was a little afraid. It's too good to be able to be yourself and do your own thing despite the pressure "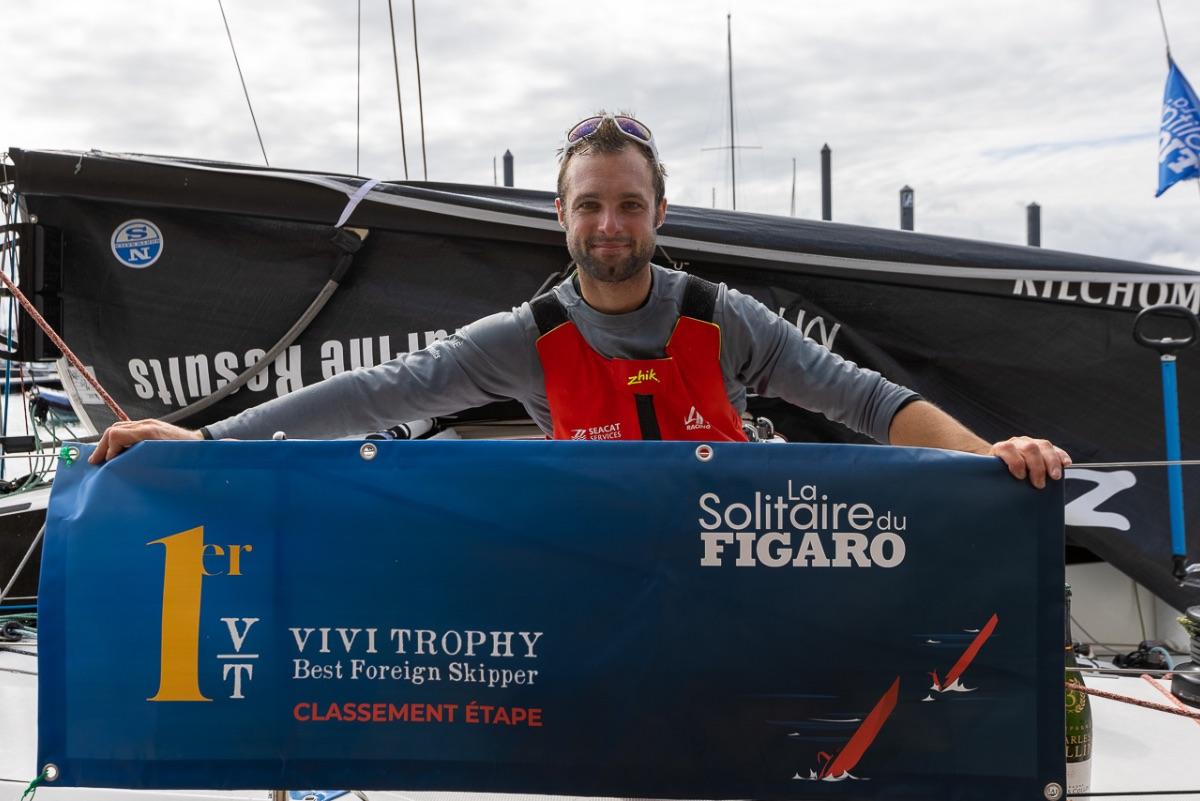 Britain's Alan Roberts (Seacat Services) held out well to take his well-earned third, a first ever podium finish on a stage in his eight years racing on La Solitaire du Figaro. He showed remarkable tenacity as well as a notable speed edge down the long reach from the Welsh coast turning mark to the English Channel which saw him sail through the fleet from 28th to fourth. Roberts best ever leg finish before this was a fifth on the first stage Le Havre to Saint-Brieuc. Under pressure into the finish line, the English skipper held off Stage 1 winner Xavier Macaire (Groupe SNEF) to take third, only 14 minutes behind Quiroga and six minutes and two seconds after Loison.
Roberts' result moves him up to tenth place overall, two hours and 45 minutes off third place overall.
He attributed his success in part due to a secret sail setting which he has discovered fast reaching,
"From Saint Gowan I know I have a little something, a particular wind angle where I can sail quicker than the fleet. It was that particular angle and conditions, I have done it three times before. It is top secret." Smiled Roberts.
Roberts, who wins the Vivi Trophy prize for the first non-French skipper concluded:
" I am so happy with a podium. That was my objective. The first two stages were not good. Hopefully this is the start of a strong second half. I have felt more exhausted at the end of a leg, but it was a hell of a leg. Even coming into the finish, I really did not know much about where I was finishing because there was a group who head south to get into the massive right-hand shift. And you really don't know if the pressure was going to fill in for them first. It could have come in earlier and they would have been over us, but I had my strategy in my head, but for a long time I had no one on AIS so I was pretty relieved. I was third or fourth to Pullar and then lost out. But it was good coming in to the finish. And I enjoyed the leg a lot, it was great to be sailing somewhere different out to Lundy and Saint Gowan, there was some spectacular landscapes and great sunsets and sunrises."
It was a disappointing leg for Irish racer Tom Dolan (Smurfit Kappa-Kingspan) who was ninth yesterday afternoon at Bishop Rock at the Scillies, two miles behind the leader but crossed the line this afternoon in 19th three hours and 13 minutes after winner Quiroga. Missing the tide just off the finish line Dolan and others spent nearly two hours trying to make the final miles to the line.
Dolan grimaced, "I feel a bit sickened really. I felt like I had sailed quite well until last night and one cross just before the wind died and then I did not get going. It was a pretty brutal stage and right now I am quite sickened, especially sitting out there for an extra three hours fighting the tide. I feel like I sailed better than that."

Italian-American double Olympian Francesca Clapcich (Fearless-State Street Marathon Sailing) caught a fishing net and line and had to dive under her boat in the English Channel.
"I was going quite well until then but after that I took a long time to get warmed up again. It was a tough, tough leg, but you learn on every leg. I feel like I am three or four tenths slower a lot of the time, not like a knot and so you start to see what it is you have to achieve, there is definitely light at the end of the tunnel, but this is hard!"
And British skipper David Paul who was 33rd behind Clapcich in 32nd had to contend with food poisoning for the first 30 hours of the race.

But all of their travails paled into insignificance compared to the fate of young French rookie Charlotte Yvan of the Team Vendée Formation who was on course for fourth or fifth and top rookie which she touched rocks within a mile of the finish. On a fast-falling tide, having sailed over 620 miles over 4 days and 16 hours she had to be helped and so had to retire from the Stage within sight of the finish line.