Richard Witzel on 'Rowdy' secures J/70 glory and Melges 24 top billing goes to Laura Grondin on 'Dark Energy'
Richard Witzel on Rowdy secures J/70 glory and Melges 24
A gorgeous morning greeted teams on Biscayne Bay, Miami for day 2 at the Bacardi Winter Series Event 1. However, it was an altogether different race track compared to Saturday, with a light breeze coming in from the south-south east and most of the chop dissipated.

The tight racing which headlined on Saturday eased, as teams focused on negotiating the tricky light breeze and current. A central strategy for success, the impact of the current escalated through the lower half of the downwind legs, playing a major influence on lay lines and gybing angles.
Melges 24
The twenty-boat fleet was in sequence for their first race of the day, when the wind shifted and the Race Committee postponed waiting for the wind to stabilize. Three races later and three different teams claimed victory on an unpredictable track which saw the left side favoured and some right to left current at the windward mark.

Ultimately the only change in the leader board top 3 at the end of the day compared to the start was Drew Freides and his team on 'Pacific Yankee', who managed to overhaul Bruce Ayres on 'Monsoon' to claim third overall by 2 points.

The bullet in the first race of the day went to 'Team Energy' skippered by Laura Grondin who managed the competition skilfully to maintain a safe lead around the track and hold onto first overall. Peter Karrie and his Italian line-up on 'Nefeli' took out the race 5 win to stay in second overall going into the concluding race. On to race 6 and the breeze stayed light, with Drew Freides on 'Pacific Yankee' taking a convincing win, with the rest of the fleet compacted behind, to wrap up in third overall.

Overall victory went to Laura Grondin from a solid scorecard of 2,3,1,1,5,2, by 5 points over 'Nefeli' in second.

"As we were sailing in today I think the thing I was most proud of was how well I and the entire team responded to the varying conditions we dealt with," reflected Laura Grondin. "High wind speeds, low wind speeds, no chop, chop and a squall that came through!"

"I'll be frank, the squall actually helped us," grinned Grondin. "We turned out to be in the right position and we just took off downwind and even though it was absolutely pouring rain I have to say it was the most fun I had the entire weekend.

"With Taylor Canfield, Scott Ewing, Cole Brauer and Rich Peale on board, we just have a fantastic team that really understands how to make those mode changes. If I were to point to one single thing on our success this weekend, that would be it."

Melges 24 – Overall Top 10 Results
1. Laura Grondin/Taylor Canfield/Scott Ewing/Rich Peale/Cole Brauer (USA 864) - 9 pts
2. Peter Karrié/Niccolo Bianchi/Alessandro Saettone/Alessandro Franci/Saverio Cigliano (GER 859) - 14 pts
3. Drew Freides/Charlie Smythe/Morgan Reeser/Federico Michetti/Lara Poljsak (USA 865) - 19 pts
4. Bruce Ayres/Tomas Dietrich/Chelsea Simms/Edward Hackney/Jeremy Wilmot (USA 851) - 21 pts
5. Travis Weisleder/John Bowden/Hayden Goodrick/Mark Mendleblatt (USA 858) - 26 pts
6. Peter Duncan/Victor Diaz de Leon/Erik Shampain/Morgan Truvobich/Matt Pistay/Mac Agnese (USA 829) - 31 pts
7. Richard Reid/Rebecca Anderson/Richard Clarke/Bill Gooderham/Brian Kamilar/Gonzalo Ribeiro (CAN 853) - 32 pts
8. Alessandro Rombelli/Francesco Bruni/Giorgio Tortarolo/Manuel Modena/Francesca Salva (ITA 860) - 35 pts
9. Peter McClennen/Mike Marshall/Zeke Horowitz/Allie Grey/Wilson Stout (USA 811) - 44 pts
10. Sandra Askew/Reed Baldridge/Dave Shriner/Jason Currie/Nick Ford (USA 801) - 50 pts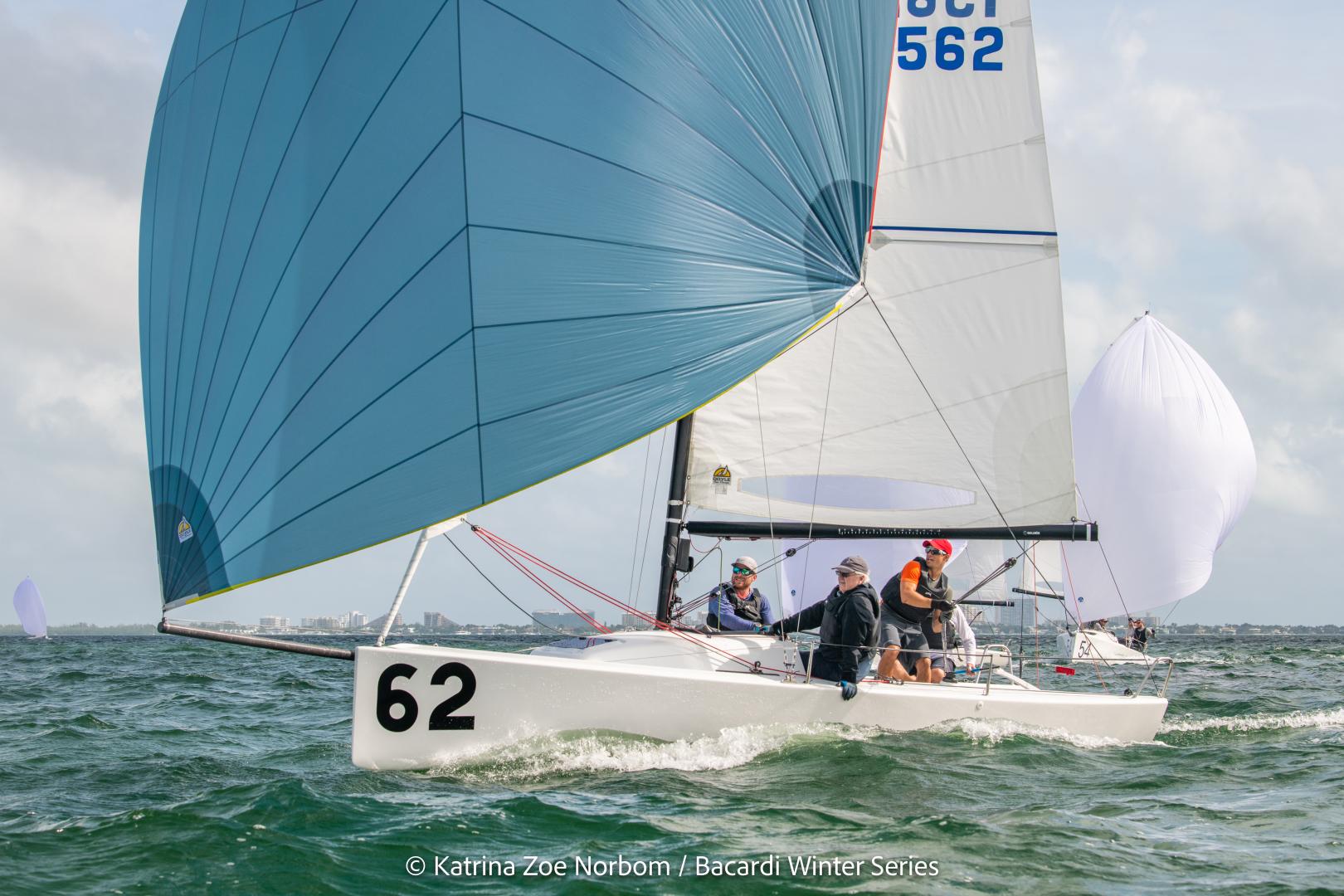 J/70
'Bazinga' helmed by Daniel Goldberg (USA) delivered a change of form to day 1, easily winning race 4 over the seventeen-boat J/70 fleet.

As the day unfolded, the sun came out, the breeze increased and there was a change of guard on the track featuring the young team on 'Project Number 49', who put in a powerful performance to win races 5 and 6 and close the event in 7th overall.

"It was a little bit different from yesterday, the breeze came from the south which is a little interesting for Miami,"said Max Lopez crew on 'Project Number 49'. "We had a bad first race and we won the last two. The trick was getting off the line and getting on the long tack. We had some pretty aggressive left shifts come in and we are able to start really pointing the boat towards the mark up the course. That's really what happened for us, that was the key.

"Then it was more just staying ahead, staying between the competition and the mark and keeping the boat going as fast as possible. Really nice to finish on Sunday with a 1,1 in Miami sailing," concluded Lopez.

None of the overall top three from Saturday managed to repeat their front of fleet finishes, but their overnight points advantage and consistent form today saw them hold tight to the same top three podium places. Richard Witzel helming 'Rowdy' took out a 5,2,12 scorecard to claim overall victory,

"What can I say, Bacardi, Miami – the perfect way to spend the week before Christmas," said a super happy Richard Witzel. "It's my first time sailing the Bacardi Winter Series and I must say it is one of my favourite events that I have ever done.

"The venue is spectacular, the hospitality is spectacular, the sailing conditions were amazing. We had a good variety. Yesterday was really windy and today a lot of ups and downs with the velocity, a lot of shifts, very challenging sailing conditions. But that's what makes it fun."

J/70 – Overall Top 10 Results
1. Richard Witzel/Carlos Robles/Mark Gauthier/Jud Smith (USA 1562) - 13 pts
2. Peter Cunningham/Chris Rast/Willem van Waay/Tony Rey (CAY 1310) - 17 pts
3. Victor Cribb/Greiner Hobbs/John Wallace/Orin Star (USA 677) - 19 pts
4. Ed Lebens/Ian Barrows/Conner Harding/Malcom Lamphere (USA 1150) - 20 pts
5. Daniel Goldberg/Lucas Calabrese/Tomas Hornos/Kristen Berry (USA 84) - 23 pts
6. Bobby Julien/Alec Anderson/Will Felder/Chris Waters (USA 639) - 24 pts
7. Geoffrey Pierini/Max Lopez/Ron Weed/Tomas Barrows (USA 49) - 25 pts
8. David Jannetti/Travis Odenbach/Kris Werner/Andy Horton (USA 1513) - 35 pts
9. Trey Sheehan/George Peet/Brad Boston/Curtis Florence (USA 389) - 38 pts
10. Zachary Segal/Enrique Quintero/Blake Cabassa/Ashton Merlin (USA 1154) - 38 pts

Winners and podium finishers were celebrated at the Bacardi prize giving hosted at Shake-a-leg Miami, with plenty more camaraderie enjoyed at the Bacardi Happy Hour.

Teams will renew their race track battles at Bacardi Winter Series Event 2 in Miami from 28-30 January 2022, ahead of the series finale at the Bacardi Cup Invitational Regatta, 9-12 March 2022. Also racing at the Bacardi Cup Invitational Regatta in March 2022 will be the VX One, Viper 640 and Persico 69F classes. As always the Star Class will headline at the historic Bacardi Cup which celebrates its 95th anniversary from 6-12 March 2022.