Eric Doyle and Payson Infelise claim outstanding win at 92nd Bacardi Cup
Eric Doyle and Payson Infelise claim outstanding win at 92nd Bacardi Cup
Miami and Biscayne Bay today showcased the best day of racing as this iconic racing venue said good-bye to the 500 sailors who competed at the Bacardi Invitational Regatta. A great Easterly breeze of around 10 knots, sun shining warm and wave chop a lot less than the previous days made for a perfect race day. All of the classes finished their scheduled races at this the best spring sailing yacht racing event in the North Hemisphere.
In the Star Class, the charge for the 92nd Bacardi Cup victory came down to an American Gold Star battle. Eric Doyle/Payson Infelise (USA) presented a flawless scorecard with results always in the top 4, but Paul Cayard/Magnus Liljedahl (USA) managed a brilliant come back from a 27th in race 1 and earned a chance to steal the win from Doyle/Infelise. But only if they could maintain the momentum that gave them wins in Race 4 and 5. Both teams started on the right side, with Doyle keeping an eagle eye on Cayard who was almost on pin end and kept following that track. The Southern California partnership of Doyle/Infelise were first to the windward mark, whilst in a surprise turn of form North California legend Paul Cayard rounded at the back, in about 20th position.
The order of play continued at the downwind gate and up the second windward leg. At this point, Doyle/Infelise realized they were safely ensconced as winners of the 92nd Bacardi Cup and could abandon the race and head ashore! Even though Paul Cayard/Magnus Liljedal were slowly climbing back through the fleet, there was no hope of them overhauling Doyle/Infelise's points advantage. Then, on the second downwind, they broke their mast and were forced to be towed back in. Scoring a DNF penalty, they had to re-count their 27th from day 1 and plummeted down the leaderboard to finish in 7th overall.
Standing alongside Doyle/Infelise on the podium were Mateusz Kusznierewicz (POL) and Firithjof Kleen (GER), who also gave themselves an uphill start after a UFD in race 1, but won two races from the remaining five and finished only 2 points behind the winners. Another two points back were bronze medalists Eivind Melleby (NOR) and Joshua Revkin (USA). In fourth were defending champions Diego Negri and Sergio Lambertenghi of Italy and in fifth the French Xavier Rohart and Pierre-Alexis Ponsot.
"It's been great, fun, fabulous weather, it all came together nicely, we had great speed, a fantastic team work, good starts and it's great to be in this excellent field with incredible champions," smiled a very satisfied Eric Doyle. "It is our first win even though I have sailed here for 20 times. One time we had a big fight then Ross McDonald came ahead I lost my points; it doesn't matter now, it's great we won it! And we are happy to win 2500 points of the Star Sailors League. We plan to go to the Europeans/SSL Breeze Grand Slam in May and then to the Worlds in Porto Cervo in June, so plenty of racing coming ahead!"
On the race courses closer to shore, action was unfolding for the J/70, Melges 24, Viper 640 and the Flying Tigers 7.5 who contested their last two races of the series.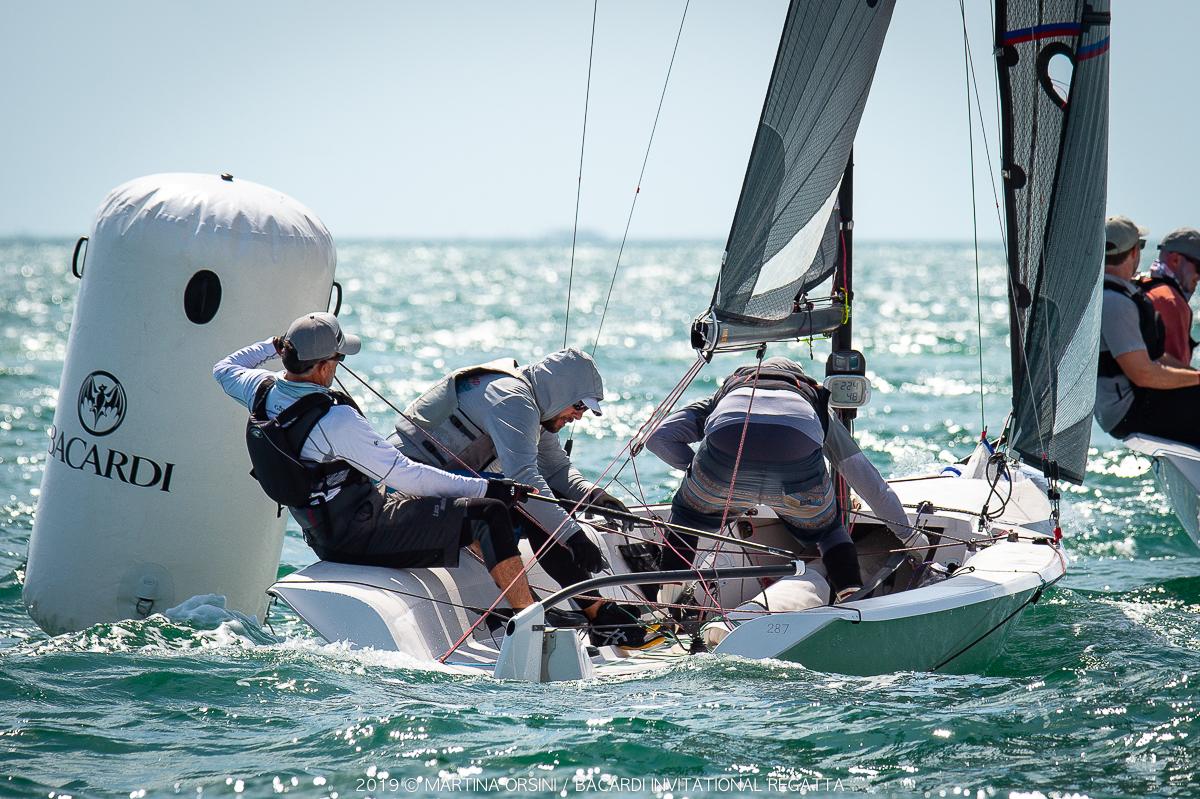 In the J/70, the winners were the team on Catapult (USA), featuring Joel Ronning, Victor Diaz del Leon, Patrick Wilson and Chris Stoke. They were the most solid and consistent of the fleet with every score inside the top 3, after discarding their 11th in race 3. They racked up a 16 point advantage over second placed Americans onboard Surge with Mark Mendelblatt calling tactics, and in third was Italy's Calvi Network with Carlo Alberini driving.
"This was a very fun team to sail with we all got along very well," commented Joel Ronning of Catapult. "This group of people are very good at what they do. We had tremendous fun, we were able to minimize mistakes by keeping the dialogue open and if there were any issues they were taken care of right away. It's a phenomenal event and one of the premier series in the world. It's very well organized. We love Shake A Leg, we love Bacardi, everybody is so welcoming and we will definitely be coming back."
A big fight in the Melges 24, where, despite domination from a 19 boat American team line-up, it was the Italians on Italian Bombarda who claimed the win. Their super crew was all home-made in Italy: Andrea Pozzi, Carlo Zermin, Matteo Ivaldi, Nicholas Dal Ferro and Stefano Ciampalini. Full Throttle (USA) with Olympic tactician Jonathan McKee finished in second and Monsoon (USA) in third, with just 1 point between each of the top three teams.
"We loved the conditions here," said Andrea Pozzi of Bombarda. "It's the ones we love and perform better with. The crew has been working together for a long time, even though we are coming back together after a year's break. Miami is a fantastic spot, we love it and we loved the event. It combined the sport of sailing to the fun in the after sail, we want to thank Bacardi for this!"
Evil Hiss stepped up today to win the super competitive Viper 640 class: Mary and Geoff Ewenson with Star Olympian Tyler Bjorn won the last three races of the series leaving no doubts as to who was the best in the fleet. Great Scott!slang (USA) came in 6 points behind in second place, and first Corinthian team, and Choppy Seas (USA) completed the podium in third.
"We got better as the days progressed. Choreography on the boat was just perfect," said Geoff Ewenson. "The crew was very experienced and we were able to make good decisions. I've sailed in Miami enough so that it almost feels like sailing in my home waters. I remember coming down to Miami to sail the Bacardi Cup in Stars and now, the last three times as part of the Bacardi Invitational in Vipers. Love the organization, love Biscayne Bay and I can't wait to come back next year."
The best of the Flying Tigers 7.5 was Neun (CAN) with Geoff Becker, Richard Griffin, Sabine Griffin, Joe Mele and Adam Spiegel onboard. Finishing in style, they won the last race of the series. Just one point behind, Grassy Manatee (CAN) finished in second, with J.A.C.K.ed (USA) is third.
"We just had awesome team work," explained Geoff Backer of Neun about their win. "Beautiful clear conditions, warm water, warm air, everything was fantastic. We had such great fun and we'll definitely come back next year!"
As the curtains prepare to drop on the Bacardi Cup Invitational Regatta, tonight it is all about the big Prize Giving Ceremony and dinner party at Shake-A-Leg Miami to officially close the 2019 edition. Bacardi is already planning the 2020 edition with the 93rd Bacardi Cup for the Star class, the event that launched this all in 1927 in Havana, Cuba.