Besenzoni at the Fort Lauderdale International Boat Show 2019
At the most important American Boat Show in the United States, held between October 31 and November 3, Besenzoni will exhibit two helm seats designed specifically for the American market, which values comfort and practicality.
Besenzoni is furthering its global development strategy and returning to the Fort Lauderdale International Boat Show, held from October 30 to November 3, to exhibit two new products designed specifically for the American market and present the company's entire range of products, all of which can be customized according to the needs of the customer.
The P 338 Speciale helm seat, with its very wide seat, has been designed for total comfort, a feature which is highly appreciated and in demand in the U.S. market. The Speciale Version, in particular, has no armrests and is mounted on a polished stainless-steel support, with a manually-adjusted slide. The height is also adjusted manually, and can be raised and lowered within a span of 20 cm. The footrest is made of aluminium with rubber inserts, while the padding, stitching and fabric guarantee excellent comfort and durability.
The P 242 Seagull automatica seat is equipped with wide armrests, where controls or storage compartments can be inserted and accessed, and is fixed onto a very wide and resistant coated electrical support. The height, backrest angle and fore/aft slider are adjusted electronically. The seat is rotated manually up to 180° (90° clockwise and 90° counter-clockwise). The footrest is also adjusted manually. The standard upholstery fabrics that you can choose from are vinyl or leather. Additional
options including logo embroidery, custom stitching and more are available on request.
One of the strengths of the Bergamo-based company is without a doubt the option to customize each part, satisfying the requirements of individual markets worldwide as well as the personal needs of customers. All details, whether technical or decorative, are the result of Besenzoni's fifty years' experience in the production of nautical accessories, and ensure intuitive functionality and maximum comfort, integrating perfectly with the boats, as well as ensuring long-lasting quality.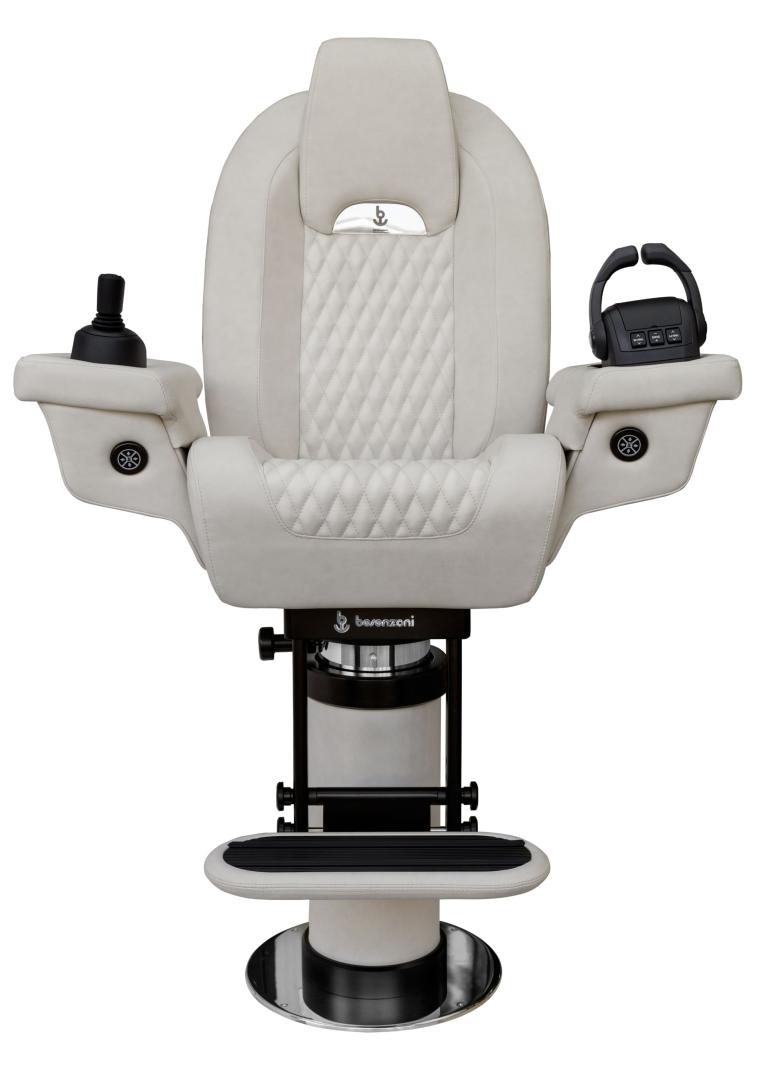 Stand: Yellow Zone Superyacht Pavilion 682-683